Britain's Roads Must Not Let Us Down
23rd December 1939
Page 12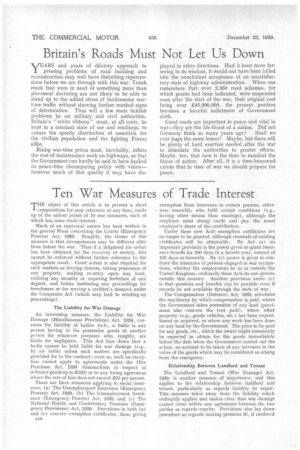 Page 12, 23rd December 1939 —
Britain's Roads Must Not Let Us Down
Close
yEARS and years of dilatory approach to pressing problems of road building and reconstruction may well have disturbing repercussions before we are through with this war. Trunk roads that were in need of something more than piecemeal doctoring are not likely to be able to stand up to the added stress of burdensome wartime traffic without showing further marked signs of deterioration. Thus will a few more ticklish problems be set military and civil authorities. Britain's " white ribbons" must, at all costs, be kept in a constant state of use and readiness, to ensure the speedy distribution of essentials for the civilian population and the fighting Forces alike.
Rising war-time prices must, inevitably, inflate the cost of maintenance work on highways, so that the Government can hardly be said to have backed its peace-time cheeseparing policy with vision— however much of that quality it may have dis played in other directions. Had it been more farseeing in its wisdom, it would not have been lulled into the nonchalant acceptance of an unsatisfactory state of highway administration. When one remembers that over 2,350 road schemes, for which grants had been indicated, were suspended soon after the start of the war, their original cost being over £45,000,000, the present position becomes a forceful indictment of Government sloth.
Good roads are important in peace and vital in war—they are the life-blood of a nation. Did not Germany think so many years ago? Shall we ever lea;n the same lesson? Maybe, but there will be plenty of hard exertion needed after the war to stimulate the authorities to greater efforts. Maybe, too, that now is the time to marshal the forces of action. After all, it is a time-honoured axiom that in time of war we should prepare for peace.