TROLLEYBUS SCHEME IN BRIGHTON
23rd December 1938
Page 31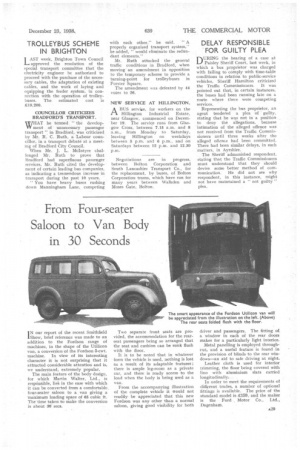 Page 31, 23rd December 1938 —
TROLLEYBUS SCHEME IN BRIGHTON
Close
LAST week, Brighton Town Council approved the resolution of the special transport committee that the electricity engineer be authorized to proceed with the purchase of the necessary cables, the adaptation of existing cables, and the work of laying and equipping the feeder system, in connection with the operation of trolleybuses. The estimated cost is £19,200.
COUNCILLOR CRITICIZES BRADFORD'S TRANSPORT.
'Iv HAT he termed " the developVY ment of unnecessary passenger transport " in Bradford, was criticized by Mr. R. C. Ruth, a Labour councillor, in a transport debate at a meeting of Bradford City Council.
When Mr. J. L. McIntyre challenged Mr: Ruth to prove that Bradford had superfluous passenger services, Mr. Ruth cited the development of certain leading bus companies, as indicating a tremendous increase in transport during the past 10 years.
" You have heavy buses rushing down Manningham Lane, competing with each other," he said. " A properly organized transport system," be added, " would eliminate the redundant elements."
Mr. Ruth attacked the general traffic conditions in Bradford, when moving an amendment in opposition • to the temporary scheme to provide a turning-point for trolleybuses in Forster Square.
The amendment was defeated by 44 votes to 26.
NEW SERVICE AT HILLINGTON.
ABUS servie, for workers on the Hillington Industrial Estate, near Glasgow, commenced on December 19. The service runs from Glas
• gow Cross, between 7.15 am, and 8 a.m., from Monday to Saturday, leaving Hillington on weekdays between 5 p.m. and 6 p.m., and on Saturdays between 12 p.m. and 12.30 p.m.
Negotiations are in progress, between Bolton Corporation and South Lancashire Transport Co., for the replacement, by buses, of Bolton Corporation trams, which have run for many years between Walkden and Moses Gate, Bolton.