RAILWAY LOSES" VEHICLE JOURNEY" ATTACK.
23rd December 1938
Page 30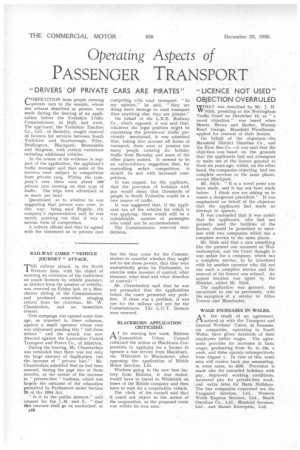 Page 30, 23rd December 1938 —
RAILWAY LOSES" VEHICLE JOURNEY" ATTACK.
Close
THE railway attack, in the North Western Area, with the object of securing an extension of the restriction on coach licences by vehicle journeys, as distinct from the number of vehicles, was renewed on Friday last, at a Manchester sitting of the Commissioners, and produced somewhat stinging retorts from the chairman, Mr. W. Chamberlain, and an immediate refusal,
This campaign was opened some time ago, as reported in these columns, against a small operator whose case was adjourned pending this "full dress debate " and the attack was now directed against the Lancashire United Transport and Power Co., of Atherton.
During the hearing, Mr. Chamberlain was reminded that there was not only the large amount of duplication, but the increase of " private hire." Mr. Chamberlain admitted that he had been amazed, during the past two or three months, at the extent of the increase in," private-hire" business, which was largely the outcome of the relaxation permitted by Parliament under Section 25 of the 1934 Act.
" Is it in the public interest," said counsel for the L.M. and S., " that this increase shall go on unchecked, or £28 has the time come for the Commissioners to consider whether they ought not to use those powers, that they were undoubtedly given by Parliament, to exercise some measure of control; what measure, what kind and what direction of control? "
Mr. Chamberlain said that he was not persuaded that the applications before the court presented any prob. lam. If there was a problem, it was one for the railway and not for the Commissioners. The L.U.T. licences were renewed.