Operating Aspects of
23rd December 1938
Page 30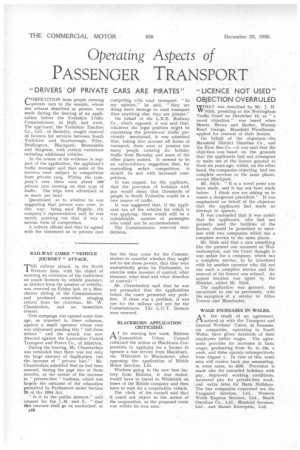 Page 30, 23rd December 1938 —
Operating Aspects of
Close
PASSENGER TRANSPORT
DRIVERS OF PRIVATE CARS ARE PIRATES"
COMPETITION from people running private cars to the seaside, whom one witness described as pirates, was made during the hearing of an application before the Yorkshire Traffic Commissioners, at Hull, last week. The app'icant, the Yorkshire Traction Co., Ltd., of Barnsley, sought renewal of licences for services between South Yorkshire and Scarborough, Filey, 'Bridlington, Blackpool, Morecambe and Skegness, with certain variations including additional vehicles.
In the course of his evidence in support of the application, the applicant's traffic manager said that some of the services, were subject to competition from private ,cars ," Within the company's area there were about 100 private cars running on that type of traffic. •The trips were advertised at so much per head.
Questioned as to whether he was suggesting that private cars were, in this way, , being used illegally, the company's representative said he was merely pointing out that it was a serious form 'of competition.
A railway offieial said that he' agreed with the statement as to private cars
competing with road transport. " In my opinion," he said, " they are doing more damage to road transport than 'anything else; they are pirates."
On behalf of the L.N.E. Railway Co., which opposed, it was said that, whatever the legal position might be concerning the private-car traffic previously mentioned, it was admitted that, taking into account all forms of transport, there were at present too many people catering for holiday traffic from Barnsley and some of the other places named. It seemed to be an extraordinary suggestion that, for controlling unfair competition, it should be met with increased competition.
It was argued, for the applicant, that the .provision of holidays with pay would mean that thousands of people in South Yorkshire would be a new source of traffic.
It was suggested that, if the applicant ran all the vehicles for which it was applying, there would still be a considerable number of passengers who could not be accommodated.
The Commissioners reserved their decision.