S.T.R. on Recording for Smaller Fleets A N interesting paper was recently
23rd December 1938
Page 27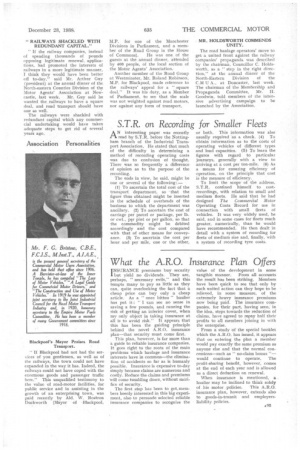 Page 27, 23rd December 1938 —
S.T.R. on Recording for Smaller Fleets A N interesting paper was recently
Close
read by S.T.R. before the Nottingham branch of the Industrial Transport Association. He stated that much of the difficulty in determining a method of recording operating costs was due to confusion of thought. There was so frequently a difference of opinion as to the purpose of the recording.
The ends in view, he said, might be one or several of the following — (1) To ascertain the total cost of the transport department, so that the figure thus obtained might be inserted in the schedule of overheads of the business to which the department was ancillary. (2) To ascertain the cost of carriage per parcel or package, per lb. or cwt., pr pint or per gallon, so that the commodity might be debited accordingly and the cost compared with that of other means for conveyance. 0) To ascertain the cost per hour and per mile, one or the other, or both. This information was also• usually required as a check. (4) To obtain information as to the costs of operating vehicles of different types and load capacities. (5) To learn the figures with regard to particular journeys, generally with a view to arriving at a cost per ton-mile, (6) As a means for ensuring efficiency of operation, on the principle that cost is the measure of efficiency.
To limit the scope of the address, S.T.R. confined himself to costrecordings, with relation to small and medium fleets. He said that he had designed The Corramerial Motor Operating Costs Record for use in connection with small fleets of vehicles. It was very widely used, he said, and in some cases for fleets much greater, numerically, than he would have recommended. He then dealt in detail with a system of recording for fleets of medium size and, finally, with a system of recording tyre costs.