DODGE, UNIPOWER AND ANTHONY GET TOGETHER.
23rd December 1938
Page 21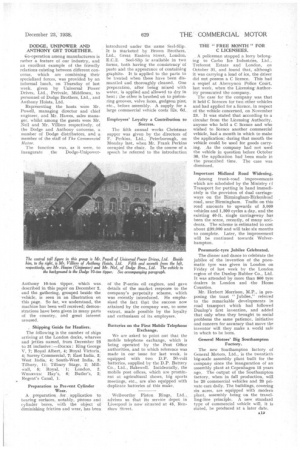 Page 21, 23rd December 1938 —
DODGE, UNIPOWER AND ANTHONY GET TOGETHER.
Close
Keywords :
co-operation among manufacturers is rather a feature of our industry, and an excellent example of the friendly relations existing between different concerns, which are combining their specialized forces, was provided by an informal lunch, on Thursday of last week, given by Universal Power Drives, Ltd., Perivale, Middlesex, to personnel of Dodge Brothers, Ltd., and Anthony Hoists, Ltd.
Representing the hosts were Mr. Powell, managing director and Chief engineer, and Mr. Hawes, sales manager, whilst among the guests were Mr. Neil and Mr. Villiers respectively, of the Dodge and Anthony concerns, a number of Dodge distributors, and a• member of the staff of The Commercial Motor,
The function was, as it were, to inaugurate the Dodge-Unipower Anthony 10-ton tipper, which was described in this paper on December 2, and the gathering, grouped beside the vehicle, is seen in an illustration on this page. So far, we understand, the machine has been well received; demonstrations have been given in many parts of the country, and great interest aroused.
Shipping Guide for Hauliers.
The following is the number of ships arriving at the London docks, wharves and jetties .named, from December 23 to 31 inclusive :—Docxs : King George V, 7; Royal Albert, 4; Royal Victoria, 4; Surrey Commercial, 7; East India, 2; West India; 4; South-West India, 3; Tilbury, 11; Tilbury Stage, 2; MillWall, 5; Royal, 1; London, 2. WHARVES: Hay's, 6; Butler's, 2; Regent's Canal, 1.