Surrendered Business Causes Confusion
23rd December 1938
Page 20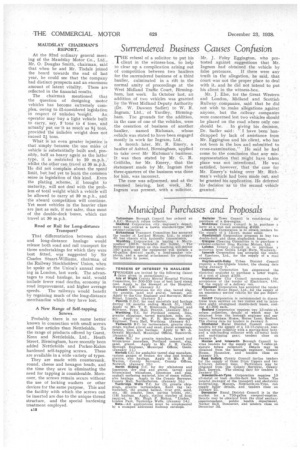 Page 20, 23rd December 1938 —
Surrendered Business Causes Confusion
Close
THE refusal of a solicitor to put his client in the witness-box, to help to clear up a complication arising out of competition between two hauliers for the surrendered business of a third haulier, culminated in a rift in the normal amity of proceedings at the West Midland Traffic Court, Birmingham, last week. In October last, an addition of two vehicles was granted by the West Midland Deputy Authority (Dr. W. Dawson Sadler) to W. R. Ingram, Ltd.;• of Yardley, Birmingham. The grounds for the addition,
the case of one of the vehicles, were the cessation of business of another haulier, named Richman, whose .vehicle was stated to have been engaged mostly in Work for Ingram; Ltd..
A month later, Mr. R. Emery, a haulier of Ashted, Birmingham, applied to take over Mr• Richman's business. It was then stated by Mr. G. R. Griffiths, for Mr. Emery, that the .gtatement made by Mr. Ingram that three-quarters of the business was done for him, was incorrect.
The case was adjourned, and at the resumed hearing, last week, Mr. Ingram was present, with a solicitor, • Mr. J. Foley Eggington, who protested against suggestions that Mr. Ingram had obtained the vehicle by false pretences. If there were any truth in the allegation, he said, that court was not the proper place to deal with it, and he did not intend to put his client in the witness-box.
Mr. J. Else, for the Great Western . and London, Midland and Scottish Railway companies, said that he did not wish to . make allegations against anyone, but the railway companies were concerned lest two vehicles should be placed on the road vLhere only one
,should be. In giving his decision, Dr. Sadler said : "I have been handicapped by lack of assistance from Mr. Eggington and his client, who has not been in the box and submitted to cross-examination." . He said he had come to the conclusion that any misrepresentation that might have taken place was not intentional. He was satisfied, however, that the case for Mr. Emery's taking over Mr, Richman's vehicle had been made out, and he granted his application. He deferred his decision as to the second vehicle granted.