ULSTER TRANSPORT BILL SUPERSEDED.
23rd December 1938
Page 18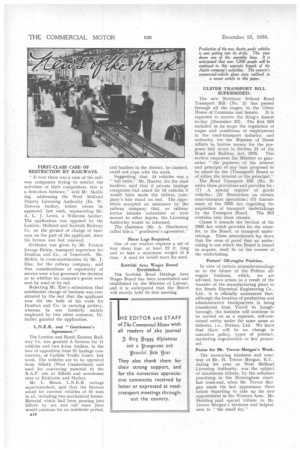 Page 18, 23rd December 1938 —
ULSTER TRANSPORT BILL SUPERSEDED.
Close
The new Northern Ireland Road Transport Bill (No. 2) has passed through all the stages, in the Ulster House of Commons and Senate. It is expected to receive the King's Assent to-day (December 23). The first Bill included in its scope the regulation of wages and conditions of employment in the road-transport industry, and authority for the Minister of Home Affairs to borrow money for the purposes laid down in Section 21 of the Road and Railway Act, 1935. This section empowers the Minister to guarantee " the payment of the interest and principal of any loan proposed to he raised by the (Transport) Board or of either the interest or the principal."
The Road Transport Bill (No. 2) omits these provisions and provides for; (1) A special register of goods vehicles ; (2) Restriction on certain road-transport operations ; (3) Amendment of the 1935 Act regarding, the acquisition of transport undertakings by the Transport Board. The Bill contains only three clauses.
Clause 3 amends the Section of the 1935 Act which provides for the transfer, to the Board, of transport undertakings. These amendments lay down that the onus of proof that an undertaking is one which the Board is bound to acquire, shall lie on the owners of the undertaking.
Petters' Oil-engine Position.
In view of certain misunderstandings as to the future of the Petters oilengine business, which, we are advised, have arisen as a result of the transfer of the manufacturing plant to the Brush Electrical Engineering Co., Ltd., it is officially announced that, although the location of production and administrative headquarters is being transferred from Yeovil to Loughborough, the business will continue to be carried on as a separate, self-contained entity under the same name as hitherto, i.e., Petters, Ltd. We learn that there will be no change in executive policy. types of product, marketing organization or key personnel.
Praise for Mr. Trevor Morgan's Work.
The unvarying kindness and courtesy of Mr. H. Trevor Morgan, K.C., during his year as West Midland Licensing Authority, was the subject of unanimous tribute, by the solicitors practising in the Birmingham &tuft, last week-end, when Mr, Trevor Morgan made his last appearance there before departing to take up his DOW appointment in the Western Area, Mr. Skelding paid special tribute to Mr. Trevor Ivlorgan's kindness and helpfulness to " the small fry."