Passing Comments
23rd December 1938
Page 17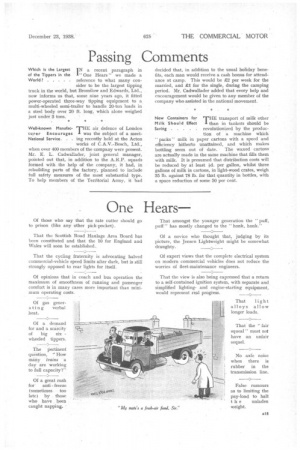 Page 17, 23rd December 1938 —
Passing Comments
Close
Which is the Largest TN a recent paragraph in of the Tippers in the I" One Hears" we made a World reference to what many con sider to be the largest tipping truck in the world, but Bromilow and Edwards, Ltd., now informs us that, some nine years ago, it fitted power-operated three-way tipping equipment to a multi-wheeled semi-trailer to handle 20-ton loads in a steel body over 20 ft. long, which alone weighed just under 3 tons.
Well-known ManufacTHE air defence of London tu,rer Encourages I was the subject of a meetNational Service. . . ing recently held at the Acton
works of C.A.V.-Bosch, Ltd., when over 400 members of the company were present. Mr. E. L. Cadwallader, joint general manager, pointed out that, in addition to the A.R.P. squads formed with the help of the company, it had, in rebuilding part:s of the factory, planned to include full safety measures of the most substantial type. To help members of the Territorial Army, it had decided that, in addition to the usual holiday benefits, each man would receive a cash bonus for attend ance at camp. This would be per week for the married, and £1 for the single, during the camping period. Mr. Cadwallader added that every help and encouragement would be given to any member of the company who assisted in the national movement.
New Containers for THE transport of milk other
Mil k Should Effect L than in tankers should be
Saving revolutionized by the produc tion of a machine which " packs" milk in paper cartons with a speed and efficiency hitherto unattained, and which makes bottling seem out of date. The waxed cartons are actually made in the same machine that fills them with milk. It is presumed that distribution costs will be reduced by at least id. per gallon, whilst three gallons of milk in cartons, in light-wood crates, weigh 35 lb. against 78 lb. for that quantity in bottles, with a space reduction of some 50 per cent.