One Hears—
23rd December 1938
Page 17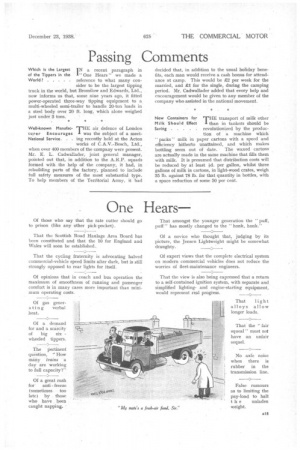 Page 17, 23rd December 1938 —
One Hears—
Close
Of those who say that the rate cutter should go to prison (like any other pick-pocket).
That the Scottish Road Haulage Area Board has been constituted and that the 10 for England and Wales will soon be established..
That the cycling fraternity is advocating halved commercial-vehicle speed limits after dark, but is still strongly opposed to rear lights for itself.
Of opinions that in coach and bus operation the maximum of smoothness of running and passenger comfort is in many cases more important than minimum operating costs.
Of gas generating verbal heat.
Of a demand• for and a scarcity of big six wheeled tippers.
The pertinent question, "How many trains a day are working to full capacity?"
Of a great rush for antifreeze (sometimes too late) by those who have been caught napping. That amongst the younger generation the "puff, puff" has mostly changed to the "honk, honk."
Of a novice who thought that, judging by its picture, the Jensen Lightweight might be somewhat draughty.
Of expert views that the cnmplete electrical system on modern commercial vehicles does not reduce the worries of fleet-maintenance engineers.
That the view is also being expressed that a return to a self-contained ignition system, with separate and simplified lightingand engine-starting equipment, would represent real progress.
That light alloys allow longer loads.
That the " fair squeal" must not have an unfair sequel.
No axle noise when there is rubber in the transmission line.
False rumours as to limiting the pay-load to halt t h e unladen weight.