The Position of the C-Licensee
23rd December 1938
Page 16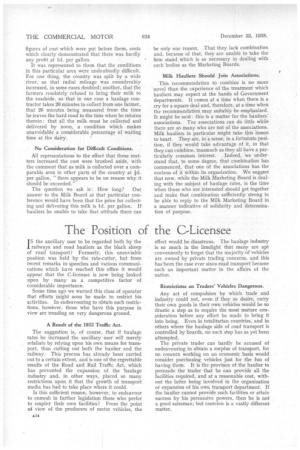 Page 16, 23rd December 1938 —
The Position of the C-Licensee
Close
I S the ancillary user to be regarded both by the railways and road hauliers as the black sheep of road transport? Formerly, this unenviable position was held by the rate-cutter, but from recent remarks in speeches and various communications which have reached this office it would appear that the C-licensee is now being looked upon by many as a competitive factor of considerable importance.
Some time ago we warned this class of operator that efforts might soon be made to restrict his activities. In endeavouring to obtain such restrictions, however, those who have this purpose in view are treading on very dangerous ground.
A Result of the 1933 Traffic Act.
The suggestion is, of course, that if haulage rates be increased the ancillary user will merely retaliate by relying upon his own means for transport, thus cutting out both the haulier and the railway. This process has already been carried out to a certain extent, and is one of the regrettable results of the Road and Rail Traffic Act, which has prevented the expansion of the -haulage industry and, in other ways, placed so many restrictions upon it that the growth of transport media has had to take place where it could.
Is this sufficient reason, however, to endeavour to enmesh in further legislation those who prefer to employ their own facilities? From the point of view of the producers of motor vehicles, the effect would be disastrous. The haulage industry is so much in the limelight that many are apt conveniently to forget that the majority of vehicles are owned by private trading concerns, and this has'been the case ever since road transport became such an important matter in the affairs of the nation.
Restricticras on Traders' Vehicles Dangerous.
Any act of compulsion by which trade and industry could not, even if they so desire, carry their own goods in their own vehicles would be so drastic a step as to require the most mature consideration before any effort be made to bring it into being. Even in totalitarian countries, and in others where the haulage side of road transport is controlled by boards, no such step has as yet been attempted.
The private trader can hardly be accused of endeavouring to obtain a surplus of transport, for no concern working on an economic basis would consider purchasing vehicles just for the fun of having them. It is the province of the haulier to persuade the trader that he can provide all the facilities required, and at a reasonable cost, without the latter being involved in the organization or expansion of his own transport department. If the haulier cannot provide such facilities or attain success by his persuasive powers, then be isnot a good salesman; but coercion is a vastly different matter.