The Purchase Department.
23rd December 1915
Page 39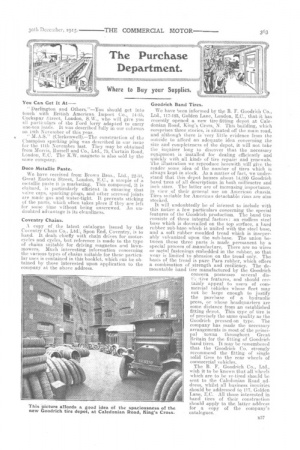 Page 39, 23rd December 1915 —
The Purchase Department.
Close
Where to Buy your Supplies.
You Can Get It At- " Darlington and Others:"—You should get into touch • with British American Import Co., 14-15, Cockspur 8treet, London, S.W., who will give you all partkulars of the Ford lorry adapted to carry one-ton loads. It was described fully in our columns on 18th November of this year.
" M.A.S." (Clerkenwell).—The construction of the Champion sparking plug was described in our issue for the 11th Novembet. last. They may be obtained from Morris, Russell and Co., Ltd., 75, Curtain Road, London, E.C. The K.W. magneto is also sold by the same company.
Duco Metallic Paste.
We have received from Brown Bros., Ltd., 22-24, Great Eastern Street, London, E.G., a sample of a metallic paste it is marketing. This compound, it is claimed, is particularly efficient in ensuring that valve caps, sparking%plugs, and other screwed joints are made gas and water-tight. It prevents sticking of the parts, which often takes place if they are left for some time without being unscrewed. An undoubted advantage is its cleanliness.
Coventry Chains.
A copy of the latest, catalogue issued by the Coventry Chain Co", Spon End, Coventry, is to hand. It deals chiefly with chain drives for motorcycles and cycles, but reference is made to the type of chains suitable for driving magnetos and lawnmowers. Much interesting information concerning the various types of chains suitable for these particular uses is contained in this booklet, which can be obtained by those interested upon application to the company at the above address. Goodrich Band Tires.
We have been informed by the B. F. Goodrich Co., Ltd., 117-123, Golden Lane, London, E.G.,that it has recently opened. a new tire-fitting depot at Caledonian Road, King's Cross, N. This building, which eomprises-three stories, is situated off the main road, and although there is •very little evidence from the outside to afford an adequate idea concerning the size and completeness of the depot, it will not take the inquirer long to discover that the necessary equipment is installed for dealing efficiently and quickly with all kinds of tire repairs and renewals. The illustration we reproduce herewith will give the reader some idea of the number of tires which is always kept in stock. As a matter of fact, we understand that this depot houses about 14,000 Goodrich band tires of all descriptions in both millimetre and inch sizes. The latter are of increasing importance, in view of their general use on American chassis. Tires suitable for American detachable rims are also stocked.
It will undoubtedly be of interest to include With this notice a few particulars concerning the special features of the Goodrich production. The band tire consists of three integral factors : an endless steel base which is dovetailed on the top surface, a hard rubber sub-base .which is united with the steel base, and a soft rubber moulded tread which is inseperably vulcanized upon the sub-base. The union between these three parts is made permanent by a special process of manufacture. There are no wires or metal fastenings embedded in the rubber, so that wear is limited to abrasion on the tread only. The basis of the tread is pure Para rubber; which offers combination of strength and -rodieney. The •domountable band tire manufactured by the Goodrich
concern possesses several . dis
titive features, and should certainly appeal to users. of commercial vehicles whose fleet may not be large enough to justify the purchase of a hydraulic. press, or whose headquarters are some distance from an established fitting depot. This type of tire is of precisely the same quality as the Goodrich pressed-on type. The company has made the necessary arrangements in most of the principal towns throughout Great Britain for the fitting of Goodrich band tires. It may be remembered that the 'Goodrich Co. strongly recommend the • fitting of single solid tires to the rear wheels of commercial vehicles. • The B. F. Goodrich Co., Ltd., wish it to be known that all wheels which are to be re-tired should he sent to the Caledonian Road address, whilst all business inquiries should be addressed to 117, Golden Lane, E.C. All those interested in band tires of their construction should apply to the latter address for a copy of the company's catalogues..