Our Campaign Comforts Fund.
23rd December 1915
Page 35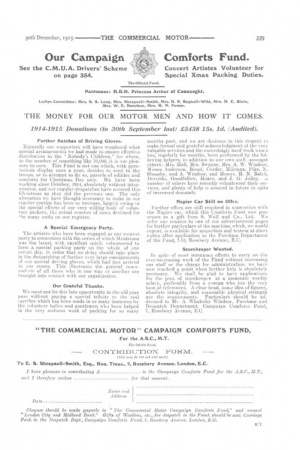 Page 35, 23rd December 1915 —
Our Campaign Comforts Fund.
Close
Keywords :
See the C.tvl.U,A. Drivers' Scheme on page 354. Concert Artistes Volunteer for Special Xmas Packing Duties.
The Official icial Fund.
Patroness: H.R.H. Princess Arthur of Connaught.
Ladies Committee: Mrs. S. S. Long, Mrs. Shrapnell-Smith, Mrs. R. K. sagnan-Wild, Mrs. H. E. Blain, Mrs. W. E. Donohue, Mrs. H. K. Foster.
THE MONEY FOR OUR MOTOR MEN AND HOW IT COMES.
1914-1915 Donations (to 30th September last) £5438 15s. id. (Audited).
Further Batches of Driving Gloves.
Naturally our supporters will have wondered what special arrangements we had made to ensure effective distribution to the " Nobody's Children," for whom, to the number of something like 70,000, it is our pleasure to care. This Fund is not one which, with pyrotechnic display once a year, decides to send to the troops, or to attempt to do so, parcels of edibles and comforts for Christmas Day only. We have been working since October, 1914, absolutely without intermission, and our regular despatches have covered this Christmas as they did the previous one. The only alteration we have thought necessary to make in our regular routine has been to increase, largely owing to the special efforts of our very willing body of volunteer packers, the actual number of cases destined for 'lie many units on our register.
A Special Emergency Party.
The artistes who have been engaged as our concert party in connection with the series of which Maidstone was the latest, with excellent spirit, volunteered to form a special packing party on the whole of one recant day, in order that no delay should take place in the despatching of further very large consignments of our special driving gloves, which had just arrived in our stores. This illustrates. the general camaraderie of all those who in one way or another are brought into contact with our organization,
Our Grateful Thanks.
We must not let this late opportunity in the old year pass without paying a special tribute to the real sacrifice which has been made in so many instances by the volunteer ladies and gentlemen who have helped in the very arduous work of packing for so many
months past, and we are desirous in this respect to make formal and grateful acknowledgment of the very valuable services and the exceedingly hard work whien bas,' regularly for months, been performed by the following helpers, in addition to our own staff, amongst others: Mrs. Hall, Mrs. Swayne, Mrs. A. W; Windsor, Misses Anderson, Baose, Corder, Mileman, Pike, N. Sheasby, and A. Windsor, and Messrs, H. N. Balch, Derricks, Goodfellow, Hoare, and J. G. Jolley. number of others have recently volunteered their services, and plenty of help is assured in future in spite of increased demands.
Napier Car Still on Offer.
Further offers are still required in connection with the Napier car, which this Comforts Fund now possesses as a gift from S. Wolf and Co., Ltd. We refer our readers to one of our advertisement pages for further particulars of the machine, which., we would. repeat, is available for inspection and testing at short notice after application to the Purchase Department of the Fund, 7-15, Rosebery Avenue, E.C.
Storekeeper Wanted.
In m spite of ost:strenuous efforts to carry on the ever-increasing work of the Fund without increasing our staff or the charge for administration, we have now reached a point when further help is absolutely necessary. We shall be glad to have applications for the post of storekeeper at a moderate weekly salary, preferably from a woman who nas the very best of references. A clear head, seine idea of figures, absolute integrity, and reasonable physical strength are the requirements. Particulars should be addressed to Mr, A. Whalesby Windsoi, Purchase and Despatch Department, Campaign Comforts Fund, 7, Rosebery Avenue, E.C.