Out and
23rd December 1915
Page 31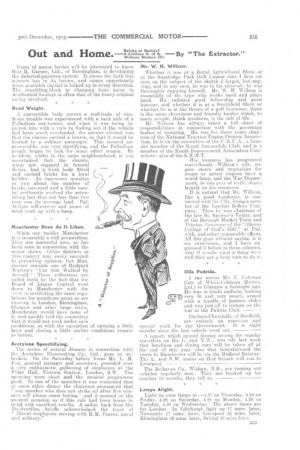 Page 31, 23rd December 1915 —
Out and
Close
Keywords :
Bricks or Bodies?
Home.—A Civilian D. of S. By "The Extractor."
Willcox Strikes Oil.
Users of motor lorries will be interested to know that IL Garner, Ltd., of Birmingham, is developing the deferred-payment system. It shows the faith this concern has in its lorries, and comes opportunely when available capital is locked up in every direction. The stumbling-block in changing from horse to mechanical haulage is often that of the heavy original outlay involved.
Dead Weight.
A. convertible body covers a multitude of sins. Some trouble was experienced with a back axle of a Palladium one-tonner,and when it was being inquired into with a view to finding out if the vehicle had been much overloaded, the answer elicited was that the chassis carried a hearse, so that it would be limited to a solitary passenger. This seemed unanswerable, was very mystifying, and the Palladium people began to Took for some other reason. By accident, whilst in the same neighbourhood, it was ascertained that the chassis, when not engaged in funeral duties, had a fresh body fitted and carried bricks for a local builder. An ingenuous question or two about the number of bricks conveyed and a little mental arithmetic evolved the astonishing fact that not less than two tons was its average load. Palladium self-esteem and peace of mind went up with a bang.
Manchester Does As It Likes.
When one tackles Manchester it is invariably a stiff proposition. They are masterful men, as has been seen in connection with the motor shows, Other districts in this country may easily succumb to prevailing opinion, but Manchester reminds one of Rudyard Jxipliigs" Cat that Walked by hitaselt," These reflections are called forth by the fact that the Board of Liquor Control went down to Manchester with the view to instituting the same regulal ions for munitions areas as are existing in London, Birmingham, Glasgow and other large cities.. Manchester would have none of it, and quickly told the committee that it would not work under such conditions, so with the exception of opening a little later and closing a little earlier conditions remain as before.
Acetylene Speechifying.
The series or annual dinners in connection with the Acetylene Illuminating Co., Ltd., goes on unbroken. On the Saturday before Xmas Mr. L. M. Fox, general manager and secretary, presided over a very enthusiastic gathering of employees at the Pillar Hall, Victoria Station, London, S.W. The speeches were short and the musical programme good. In one of the speeches it was recounted that at some other dinner the chairman announced that " any speaker who does not strike oil after five minutes will please cease boring," and it seemed on the present occasion as if this rule had been borne in mind with excellent results. A sailor, back from the Dardanelles, briefly acknowledged the toast of " Absent employees serving with H.M. Forces, naval and military."
Mr. W. H. Willcox.
Whether it was at a Royal Agricultural Show or at the Sundridge Park Golf Course that I first set eyes on the subject of the sketch I forget, but anyway, and in any case, he was in his element: he was thoroughly enjoying himself. Mr. W. H. Willcox is essentially of the type who works hard and plays hard. He radiates good fellowship and good humour, and whether it is at a Smithfield Show or whether he is in the throes of a golf fourS'ome, there is the same cheeriness and friendly .banter which, to many people, thank goodness., is thf salt of life. Mr. Willcox has always taken a full share of responsibilities in connection with the governing bodies of motoring. He was for three years chairman of the National Traction Engine Owners Association, he is on the committee of the C.M.U.A., a founder member of the Royal Automobile Club, and is member of the Roads Improvement Association Committee--also of the S.M.M.T.
His business has progressed marvellously—Willcox's oils, engine stores and recluisities for steam or petrol wagons have a world fame, and the War Department, in this year of strife, draws largely on his resources. It is natural that Mr. Willcox, like a good Londoner, is connected with the City, being amember of the Leather Sellers Company. Then he was chairman of the late St. Saviour's Vestry, and or the Borough Market Trust and Fsta.tes. Governor of the "Alleyne College of God's Gift," at Dulwich, and other responsible offices. All this goes without saying, it is my exnerience, and I have expressed it before in these columns. that if people, want a thing doee well they get a busy man to do it.
011a Podrida.
I ran across Mr. F. Coleman (late of White-Coleman Motors, Ltd.) in Glasgow a fortnight ago. He was in khaki uniform, looking very fit and very smart, armed with a bundle of lantern slides and was just off to lecture on the war at the Palette Club.
Durham-Chnrchills, of Sheffield, are entirely on munition and special work for the Government, It is eight months since the last vehicle went out.
A report, which spread dismay among the regular travellers on the L. and N. W., was rife last week that luncheon and dining .cars will be taken off at the end of this yearalso that henceforward the route to Manchester will be via the Midland .Eaiiway. The L. and N.W. trains on that branch will run to Liverpool.
The Belhaven Co., Wishaw, N.B., are turning out vehicles regularly now. They are booked up for another 12 months, they tell us.
Lamps Alight.
Light up your lamps at :-4.27 on Thursday, 4.28 on Friday, 4.28 on Saturday, 4.28 on Monday, 4.29 on Tuesday, 4,30 on Wednesday. The above times are for London. In Edinburgh light up 17 mins, later, 2rIeweastle 17 mins. later, Liverpool 32 mins. later, Birmingham 32 mins. later, Bristol 40 mins later.