When A,S.C., M.T., Drivers Come Back to Civilian Life.
23rd December 1915
Page 30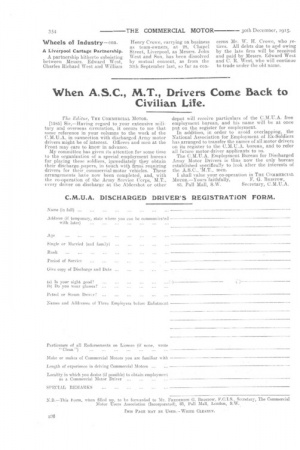 Page 30, 23rd December 1915 —
When A,S.C., M.T., Drivers Come Back to Civilian Life.
Close
The Editor, THE COMMERCIAL MOTOR.
[1585] Sir,—Having regard to your extensive military and overseas circulation, it occurs to me that some reference in your columns to the work of the C.M.U.A. in osinnection with discharged Army motor drivers might be of interest.. Officers and men at the Front may care to know in advance.
My committee has given its attention for some time to the organization of a special, employment bureau for placing these soldiers, immediately they obtain their discharge.pa.pers, in touch with firmsrequiring drivers for their, commercial-motor vehicles. These arrangements have now been completed, and, with the co-operation of the Army Service Corps, KT., every driver on discharge at the Aldershot or other
depot will receive particulars of the C.M.U.A. free employment bureau, and his name will be at once put on the register for employment. In addition, in order to avoid overlapping, the National Association for Employment of Ex-Soldiers has arranged to transfer the names of all motor drivers on its register to the bureau, and to refer all future motor-driver applicants to us. The C.M.U.A. EmPloyment Bureau for Discharged Army Motor Drivers is thus now the only bureau established specifically to look after the intereSts of the A.S.C., 'MT.. men.
I shall value your co-operation in THE COMMERCIAL MOTOR,—Yours faithfully, F. G. BRISTOW, 83. Pall Mall, S.W. Secretary, C.M.U.A.