One Hears-
23rd December 1915
Page 3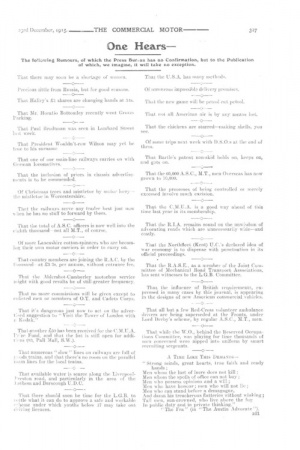 Page 3, 23rd December 1915 —
One Hears-
Close
The foll-zwing Rumours, of which the Press Buraau has no Confirmation, but to the Publication of which, we imagine, it will take no exception.
That there may soon be. a shortage of women.
Precious little from Russia, but for good reasons. That Halley's f:d shares are changing hands at 54s.
That Mr. Horatio Bottomley recently went GroveParking.
That Paul Brodtman was seen in Lombard Street:la-it week.
That President Wouldn't-row Wilson may yet be true to his surname That one of our main-line railways carries on with German locomotives.
That the inclusion of prices in chassis advertisements is to be commended.
Of Cliristmas trees and mistletoe by motor lorry-the mistletoe in Worcestershire.
That the railways serve any trade.r best just now when he has no stuff to forward by them.
That the total of A.S.C. officers is now well into the eighth thousand—not all MT., of course.
Of more Lancashire cotton-spinners who are becomicg their own motor carriers in order to carry on.
That country members are joining the RAG. by the thousand—at Za as. per annum, without entrance fee.
That the Aldershot-Camberley motorbus service might with good results be of still-greater frequency.
That no more commissions will be given except to enlisted men or members of O.T. and Cadets Corps.
That it's dangerous just now to act on the advert Ised suggestion to " Visit the Tower or London with a Kodak."
That another z'C5) has been received for the C.M,I.7.A. Pr:ze Fund, and that the list is still open for additins (83, Pall Mall, S.W.).
That numerous " slow" lines on railways are full of :uds trains, and that there's no room on the parallel main lines for the local trains.
That available water is scarce along the LiverpoolPreston road, and particularly in the area of the .nthoin and Burscough That there should soon be time for the L.G.B. to settle what it can do to approve a safe and workable 71.aeine under which youths below 17 may take out diving licences.
That the U.S.A. has many methods.
Of numerous impassible delivery pri !roses.
That the new game will be petrol cut petrol.
That not all American air is by any means hot. That the chickens are starred—making shells, you see.
Of some trips next. week with D.S.O.s at the end of them.
That Bartle's patent non-skid holds on, keeps on, and gets on.
That the 60,000 A.S.C., MT., men Overseas has now grown to 70,000.
That the processes of being controlled or merely excessed involve much excision.
Thal, the CALILA. is a good way ahead of this lime last year in its membership.
That the R.I.A. remains sound on the unwisdom of advocating roads which are unnecessarily wide—and costly.
That the Northileet (Kent) IT.C.'s declared idea of war economy is to dispense. with punctuation in its official proceedings.
That the R.A.S.E., as a member of the Joint Committee of Mechanical Road Transport Associations, has sent witnesses to the L.G.B. Committee.
That the influence of British requirements, expressed in many cases by this journal, is appearing in the designs of new American commercial vehicles.
That all but a few Red-Cross volunteer ambulance drivers are being superseded at the Fronts, under Lord Derby's scheme, by regular A.S.C., MT., men.
That while the W.O., behind the Reserved Occupations Committee, was playing for time thousands of men concerned were nipped into uniform by smart recruiting sergeants.
A TIME LIKE THIS DEMANDS— Strong minds, great hearts, time faith and ready
hands ;
Men whom the lust of lucre does not kill;
Men whom the spoils of office can not buy ; Men who possess opinions and a will ;
Men who have honour ; men who will not lie; Men who can stand before a demagogue, And damn his treacherous flatteries without winking ; Tall men, sun-crowned, who live above the fog In public duty and in private thinking."
" The Era" (in " The Austin Advocate").