Opinions _ from Others.
23rd December 1915
Page 15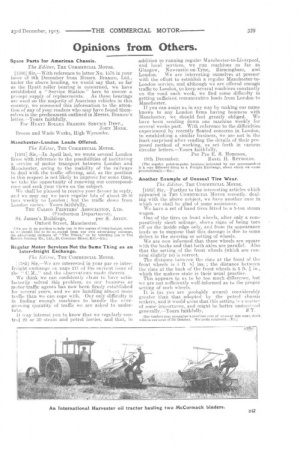 Page 15, 23rd December 1915 —
Opinions _ from Others.
Close
Spare Parts for American Chassis.
The Editor, THE COMMERCIAL MOTOR.
1:1580] Sir,—With reference to letter No. 1578 in your issue of 9th December from Messrs. Bramco, Ltd., under the above heading, we would say that, so far as the Hyatt roller bearing is concerned, we have established a " Service Station" here to ensure a prompt, supply of replacements. As these bearings are used on the majority of American vehicles in this country, we commend this information to the attention of any of your readers who may have found them'selves in the predicament outlined in Messrs. Branico's letter.—Yours faithfully,
For HYATT ROLLE,1 BEARING SERVICE DEPT., JOHN MURK. Broom and Wade Works, High Wycombe.
Manchester-London Loads .Offered.
The Editor, THE COMMERCIAL MOTOR.
[1581] Sir,—In April last, we wrote several London firms with reference to the possibilities of .instituting a service of motor transport between London and Manchester, owing to the inability of the railways to deal with the traffic offering, and, as the position in this respect is not likely to. improve for some time, we take the opportunity of renewing our correspondence and seek your views on the subject.
We shall be pleased to receive your favour in reply, arul we may say we have regular lots of about 30-10 tons weekly to London ; but the traffic down from • Load-on varies.--Yours faithfully, THE CALICO PRINTERS,' ASSOCIATION, LTD. (Production Department), St. James's Buildings, per S. ASTON. Oxford Street, Manchester.
[We are in no position to help you in this matter of inter-freight, much az; we should like to do so, except from our own advertising columns, the advertising columns of " 'The Times," or by referring you to The Return Journey Co., Ltd., IS, CowcroBs Street, E.C.—Er..]
Regular Motor Services Not the Same Thing as an oter.freight Exchange.
The Editor, THE COMMERCIAL MOTOR.
1:5S21 Sir,--We are interested in your par re interfreight exchange on page 211 of the current issue of the " CM.,'' and the Ase.rvations made therein.
We think we can confidently claim to have satisfaetorily solved this problem, as our business as motor-traffic agents has now been firmly established for several years, and we are handling almost more tra.ffie than we can cope with. Our only difficulty is in finding: enough machines to handle the evergrowing quantity of traffic we are asked to under
it may interest, you to know that we regularly control 20 or 30 steam and petrol lorries, and that, in
addition to. running regular Manchester-to-Liverpool, and local services, we run machines as far as Glasgow, Newcastle-on-Tyne,Birmingham, and London. We are interesting ourselves at present with the effort to establish a regular Manchester-toLondon service, and although we are offered enough traffic to London, to keep several machines constantly on the road each week, we find some difficulty in getting sufficient remunerative loads from London to Manchester.
If you can assist us in any way by making our name known to any London firms having business with Manchester, we should feel greatly obliged. We have been sending down one machine weekly for several weeks past. With reference to the difficulties experienced by recently floated concerns in London, in establishing a. similar business, we are not in the least surprised after reading the details of their proposed method of working, as set forth in various circular letters.—Yours faithfully, Per Pro E. S. HionnsoN, 18th December. BASIL H. REYNOLDS.
• EThe regular point-to-point business indicated by our correspondent is a very different thing to a Freight Exchange, about which we wrote pessiinisticalLy.—En.]
Another Example of Unusual Tire Wear.
The Editor, THE COMMERCIAL MOTOR.
[1583] Sir,—Further to the interesting articles which appeared in THE COMMERCIAL MOTOR recently, dealing with the above subject, we have another case in which we shall be glad of some assistkince.
We have a set of band tires fitted to a 5-ton steam wagon.
One of the tires on front wheels, after only a comparatively short mileage, shows signs of being torn off on the inside edge only, and from its appearance leads us to suppose that this damage is due to some defect in the steering or setting of wheels.
We are now informed that these wheels are square with the backs and that both axles are parallel. Also that the setting of the front wheels (which are rim-. rung slightly in) is correct. The distance between the rims at the front of the front wheels is 4 ft 8 ins. ; the distance between the rims at the back of the front wheels is 5 ft. which the makers state is their usual practice.
This appears to us to be too much difference, but we are not sufficiently-well-informed as to the proper setting of such wheels.
It is (as you are probably aware) considerably greater than that adopted by the petrol chassis makers, and it would seem that this setting is a. nab ter of some importance, and might he better underod generally.—Yours faithfully, S. T. Our remiers may remember P. previnns ease of unusual tire wear, ricalt with in our issue of `7th October. We invite comment—En.]