A Modern Oil Dispenser T HE improvements effected in the delivery
23rd August 1935
Page 50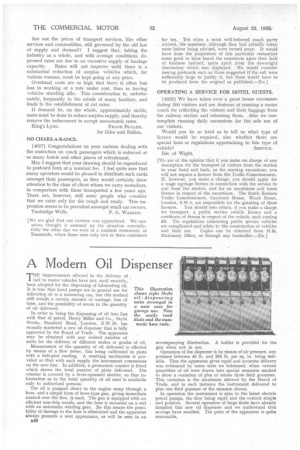 Page 50, 23rd August 1935 —
A Modern Oil Dispenser T HE improvements effected in the delivery
Close
of fuel to motor vehicles have not, until recently, been adopted for the dispensing of lubricating oil. It is true that hand pumps are in general use for delivering oil to a measuring c-an, but this method still entails a certain amount of wastage, loss of time, and the possibility of errors in the quantity of oil delivered.
In order to bring the dispensing of oil into line with that of petrol, Henry Miller and Co., Skybi Works, Standard Road, London, N.W.10, has recently marketed a new oil dispenser that is fully approved by the Board of Trade. The apparatus may be obtained with any desired ,number of units for the delivery of different makes or grades of oil.
Measurement of the quantity of oil delivered is effected by means of a flow meter, this being calibrated in pints with a half-pint reading. A resetting mechanism is provided so that with each supply the instrument commences on the zero line. In addition, a permanent counter is fitted which shows the total number of pints delivered. The counter is covered by a lever-operated shutter, so that information as to the total quantity of oil used is available only to authorized persons.
• The oil is pumped direct to the engine sump through a hose, and a simple form of lever-type gun, giving immediate control over the flow, is used. The gun is equipped with an efficient non-drip nozzle, and the hose is mounted on a reel . with an automatic winding gear. By this means the possibility of damage to the hose is eliminated and the apparatus always presents a neat appearance, as will be seen in an accompanying illustration. A holder is provided for the gun when not in use.
Operation of the dispenser is by means of air pressure, any pressure between 40 lb. and 200 lb. per sq. in. being suitable. That the apparatus gives rapid and accurate delivery was evidenced by some tests we witnessed, when various quantities of oil were drawn into special measures marked to show a variation of plus or minus three fluid grammes. This variation is the maximum allowed by the Board of Trade, and in each instance the instrument delivered to plus one fluid gramme of the measure drawn.
In operation the instrument is akin to the latest electric petrol pumps, the flow being rapid and the control simple and positive. Several operators of large fleets have already installed this new oil dispenser and we understand that savings have resulted. The price of the apparatus is quite reasonable.