Serious Strike in West Wales I AST week-end, the unofficial
23rd August 1935
Page 46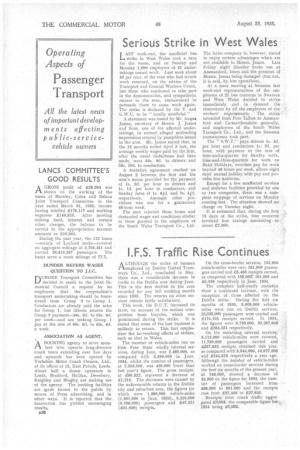 Page 46, 23rd August 1935 —
Serious Strike in West Wales I AST week-end, the unofficial
Close
bus L4 strike in West Wales took a turn for the worse, and on Sunday and Monday 1,600 employees of 21 undertakings ceased work. Last week about 50 per cent. of the men who had struck work returned, on the advice of the Transport and General Workers Union, but those who continued to take part in the demonstration, and sympathetic miners in the area, endeavoured to persuade them to cease work again. The strike is declared by the T. and G.W.U. to be "totally unofficial."
A statement was issued by Mr. Angus James, secretary of Messrs. J. James and Sons, one of the affected undertakings, to correct alleged misleading impressions created by pamphlets issued in the area. Mr. James stated that, in the 12 months ended April 5 last, the average weekly wages paid by the firm, after the usual deductions had been made, were 64s. 9d. to driversand 545. 10d. to conductors.
A tentative agreement reached on August 2 between . the firm and the men's union provided for the payment of 1s. 3d. per hour to drivers and Is. 1d. per hour to conductors, and Sunday rates of Is. 6fd. and ls.
respectively. Amongst other provisions was one for a guaranteed 48-hour week.
The men rejected these terms and demanded wages and conditions similar to those granted to the employees of the South Wales Transport Co., Ltd. The latter company is, however, stated to enjoy certain advantages which are not available to Messrs. James. Last Friday night disorder broke out at Ammanford, buses and the premises of Messrs. James being damaged (but not, it is said, by bus operatives).
At a mass meeting at Swansea last week-end representatives of the employees of 21 bus concerns in Swansca and West Wales decided to strike immediately and to demand the observance by all the employers of the workers' requirsments. The strike extended from Port Talbot to Ammanford and Carmarthenshire generally, and employees of the South Wales Transport Co., Ltd., and the Swansea tramwaymen took part.
The " S.W.T." pays drivers Is. 4d. per hour and conductors Is. 2d. per hour, with 'payment at the rate of time-and-a-quarter for Sunday work, time-and-three-quarters for work on Bank Holidays, overtime pay for work beyond 48 hours per week, allows eight days' annual holiday with pay and pro vides free uniforms. • Except •for a few unaffected services and skeleton facilities provided by. one or two companies, there was a complete stoppage of services on Monday evening last. The situation showed no change on Tuesday night.
• It is estimated that, during the first 13 days of the strike, four concerns: involved lost takings amounting to about £7,000.