I.F.S. Traffic Rise Continues
23rd August 1935
Page 46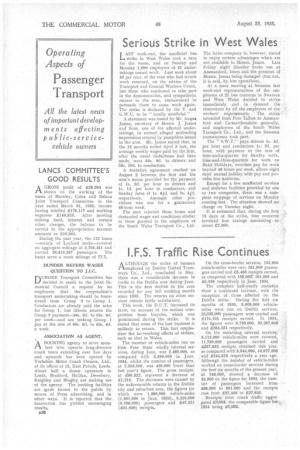 Page 46, 23rd August 1935 —
I.F.S. Traffic Rise Continues
Close
ALTHOUGH the strike of busmen employed by Dublin United Tramways Co., Ltd., concluded in May, there was a considerable decrease in traffic in the Dublin area during June. This is the first decline in the area recorded for any full working month since 1933. The returns on other services remain fairly satisfactory.
This week, the D.U.T. increased its fares, on account of the serious competition from bicycles, which was germinated during the strike. It is stated that some of the lost business is unlikely to return. This fact emphasizes the far-reaching effects of strikes, such as that in Wales.
The number of vehicle-miles run on Irish Free State wholly internal services, during June, was 2,489,000, as compared with 2,589,000 in June, 1934, whilst the number of passengers, at 7,353,000, was 435,000 lower' than last year's figure. The gross receipts, at £99,522, represent a decrease of £1,215. The decreases were caused by the unfavourable returns in the Dublin city and suburban area, the figures for which were 1,380,000 vehicle-miles (1,501,000 in June, 1934), 5,210,000 (5,736,000) passengers and £47,521 (£51,939) receipts. On the cross-border services, 133,000 ovehicle-miles were run, 161,000 passengers carried and £5,450 receipts earned, as compared with 138,000; 161,000 and £5,536 respectively in June, 1934.
The complete half-yearly statistics show a continued increase, with the exception of those affected by the Dublin strike. During the first six months of 1935, 5,009,000 vehiclemiles were run on Dublin services, 19,836,000 passengers were carried and £174,105 receipts earned. In 1934, the figures were 8,736,000, 33,207,000 and £284,551 respectively.
On the remaining internal services, 6,112,000 vehicle-miles were covered, 11,739,000 passengers carried and £257,652 receipts obtained this year, as compared with 5,944,000, 10,077,000 .and £244,818 respectively a year ago. Although the number of vehicle-miles worked on cross-border services during the first six months of the present year, at 748,000, showed ' a decrease of 33,000 on the figure for 1934, the number of passengers increased from • 888,000 to 901,000 and the receipts rose from £27,468 to £27,633.
Receipts from coach traffic aggregated £8,964, the comparable figure far 1984 being £7,992.