Planing an Ice Rink by Tractor
23rd August 1935
Page 35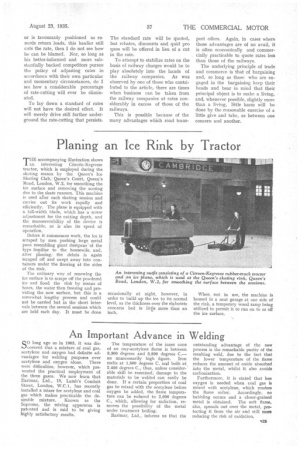 Page 35, 23rd August 1935 —
Planing an Ice Rink by Tractor
Close
THE accompanying illustration shows an interesting Citroen-Kegresse tractor, which is employed during the skating season by the Queen's Ice Skating Club,' Queen's Court, Queen's Road, London, W.2, for smoothing the ice surface and removing the scoring clue to the skate runners. This machine is used after each skating session and carries out its work rapidly and efficiently. The plane is equipped with a full-width blade, which has a screw adjustment for the cutting depth, and the manceuvrability of the device is remarkable, as is also its speed of operation.
Before it commences work, the ice is scraped by men pushing large metal pans resembling giant dustpans'of the type faipiliar to the housewife, and, after planing, the debris is again scraped off and swept away into containers under the flooring at the sides of the rink.
The ordinary way of renewing the ice surface is to scrape off the powdered ice and flood the rink by means of hoses, the water then freezing and providing the new surface, but this is a somewhat lengthy process and could not be carried but in the short intervals between the several sessions which are held each day. It must be done
occasionally at night, however, in order to build up the ice to its normal level, as the thickness over the elaborate concrete bed is little more than an inch. When, not in use, the machine is housed in a neat garage at one side of the rink, a temporary wood ramp being utilized to permit it to run on to or off the ice surface.