An Important Advance in Welding
23rd August 1935
Page 35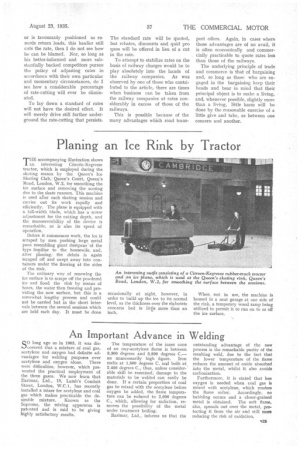 Page 35, 23rd August 1935 —
An Important Advance in Welding
Close
SO long ago as in 1903, it was discovered that a mixture of coal gas, acetylene and oxygen had definite advantages for welding purposes over acetylene and oxygen alone. There were difficulties, however, which prevented the practical employment of the three gases. We now learn that Darimar, Ltd., 18, Lamb's Conduit Street, London, W.C.1, has recently installed a mixer for acetylene and coal gas which makes practicable the desirable mixture. Known as the Sopromo, the mixing apparatus is patented and is said to be giving highly satisfactory results.
The temperature of the inner cone of an oxy-acetylene flame is between 3,300 degrees and 3,500 degrees C.— an unnecessarily high figure. Iron melts at 1,500 degrees C. and boils at 2,450 degrees C., thus, unless considerable skill be exercised, damage to the materials to be welded can easily be done. If a certain proportion of coal gas be mixed with the acetylene before oxygen be added, the flame temperature can be reduced to 2,600 degrees C., which, allowing for radiation, removes the possibility of the metal under treatment boiling.
Barimar, Ltd., informs us that the
outstanding advantage of the new process is the remarkable purity of the resulting weld, due to the fact that the lower temperature of the flame reduces the amount of oxide absorbed into the metal, whilst it also avoids carbonization.
Furthermore, it is stated that less oxygen is needed when coal gas is mixed with acetylene, which renders the flame softer. Accordingly, no bubbling occurs and a closer-grained metal is obtained. The soft flame, also, spreads out over the metal, protecting it from the air and still more reducing the risk of oxidation.