Progress of Radio on Goods Vehicles in the U.S.A.
23rd August 1935
Page 33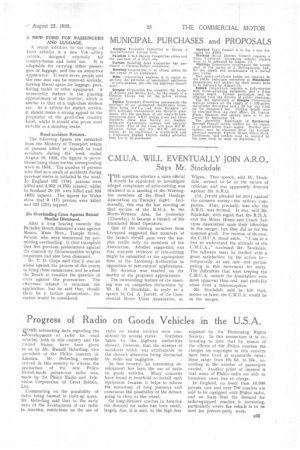 Page 33, 23rd August 1935 —
Progress of Radio on Goods Vehicles in the U.S.A.
Close
Keywords :
QOME interesting facts regarding the L.3developrnent of radio for road vehicles, both in this country and the United States, have been given to us by Mr. Russell Heberling, vice president of the Piffle° concern in America. Mr. Heberling recently arrived in this country to witness the production of the new Philco British-made private-car radio sets, made by the Philco Radio and Television Corporation of Great Britain, Ltd.
Commenting on the possibility of radio being banned in built-up areas, Mr. Heberling said that in the early days of the development of car radio in America, restrictions on the use of radio on motor vehicles were con sidered by several states. Statistics taken by the highway authorities showed, however, that the number of accidents which was attributable to the driver's attention being distracted by radio was negligible.
In that country, an interesting development has been the use of radio on goods vehicles, Many concerns have found it beneficial to install such equipment because it helps to relieve -the monotony, of long journeys and overcomes the possibility of the drivers going to sleep at the wheel.
On long-distance coaches in America the demand for radio has been small, largely due, it is said, to the high fees required by the Performing Rights Society. In this connection it is interesting to note that by reason of the efforts of the Philco concern the charges for copyright in this country have been fixed at reasonable rates: these range from lOs 0d. to 15s., according to the number of passengers carried. Another point of interest is that users of Philco radio are able to broadcast news free of charge.
In England, no fewer than 10,000 private cars and over 700 coaches are said to be equipped with Philco radio, and we learn that the demand for radio-equipped coaches is increasing, particularly where the vehicle is to be used for private-party work.