MUNICIPAL PURCHASES and PROPOSALS
23rd August 1935
Page 33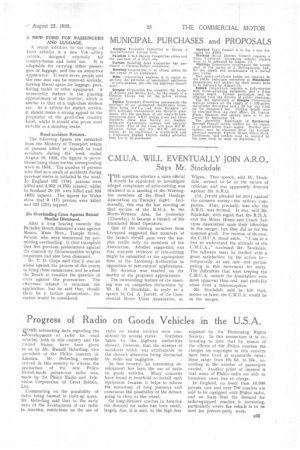 Page 33, 23rd August 1935 —
MUNICIPAL PURCHASES and PROPOSALS
Close
Glasgow Transport Committee is buying a Sentinel-Carner 4-434on lorry.
Paignton Urban District Council has authorised the purchase of a Ford van.
Durham Standing Joint Committee has purchased a Clement-Talhot ambulance, Hereford Corporation is to obtain prices for the supply of an ambulance.
Hyde lorporation's engineer is to report regarding the provision of mechanical appliances —41 gully-emptier, etc.—for the highways department.
Glasgow Corporation has accepted the tender of Armour and Melvin, Ltd., for the supply of a Commer 15-cwt. van for the police wireless set, ice Dundce Transport Committee recommends the purchasa of • six oil-engined double-deck buses, three being A.E.C.I end three Da imiers, all with hydraulie transmission and epicyclie gearboxes, and the purchase of six singte-cleckere, comprising three A.E.C. Ct-type buses and three Daimlers, these also haying oil engines, hydraulic transmission • systems and epicycho gearboxes. Five of the loses will have Id.C.W. 56-seater bodies and five M.C.W. 40-seater bodies. As an experiment, e, double-deck and a single-deck English Electric welded all-metal body are to be purchased. Hertford Town Council is to buy a new fireengine for e.,900. Worksop Rural District Council requires a 2-ton 7-cubic-yd. scavenging vehicle; tenders have to be delivered by August 27.
Hastings Corporation recommends the acceptance of the tender of J. Hollingsworth, Ltd., for the supply and maintenance of a tractor and trailer.
Two motor-ambulance bodies are required by the public assistance committee of Manchester Corporation, and tenders for their supply have to be delivered by August 31.
Saiford Corporation. requires a gully-emptier with street-sprinkling equipment, and a 2-ton tipping wagon. Further particulars may be obtained from the director of public cleansing.
The fire department of Glasgow Corporation requires tenders for the supply of a 500-gallon six-cylinder fire-engine and a 25 h.p. van litted. up for linesmen's use. Further details may be obtained from the chief officer, 33, Ingram Street, Glasgow, and tenders have to be delivered by September 14.
The electricity department of Eastbourne Borough Council invites tenders for the supply of a petrol-driven tower -wagon. Further particulars may be obtained front the borough electrical engineer, Electric House, Grove Road. Eastbourne, and tenders must be received by the town clerk by noon on September 9.