C.M.U.A. WILL EVENTUALLY JOIN A.R.O., Says Mr. Stockdale
23rd August 1935
Page 33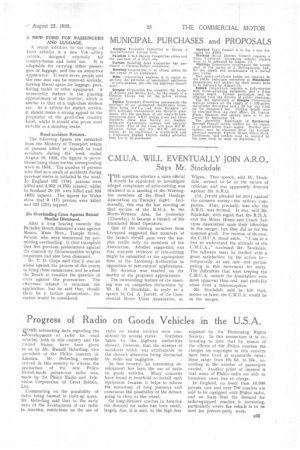 Page 33, 23rd August 1935 —
C.M.U.A. WILL EVENTUALLY JOIN A.R.O., Says Mr. Stockdale
Close
T"question whether a rates official should be appointed to investigate alleged complaints of price-cutting was discussed at a meeting of the Warrington members of the Road Haulage Association on Tuesday night. Incidentally, this was the last meeting of that section of the R.H.A. in the North-Western Area, for yesterday (Thursday) it became a branch of the Associated Road Operators.
One of the visiting members from Liverpool suggested that members of the branch should pass over the surplus traffic only to members of the Association. Another suggestion was that concrete evidence of rate-cutting might be submitted at the appropriate time to the Licensing Authorities in opposition to rate-cutters' applications.
No decision was reached on the matter of the proposed appointment.
The outstanding feature of the meeting was an outspoken declaration by Mr. R. B. Stockdale, in reply to a speech by Col. A. Jerrett, of the Commercial Motor Users Association, at Wigan. That speech, said Mr. Stockdale, seemed to be in the nature of criticism and was apparently directed against the A.R.O.
Col. Jerrett pleaded for unity against the common enemy—the railway companies. That, precisely, was why the A.R.O. was formed. It was, said Mr. Stockdale, with regret that the RI-LA. and the Motor Hirers and Coach Services Association sank their identities in the merger, hut they did so for the common good. For reasons of its own, the C.M.U.A. stood aside. "I am at a loss to understand the attitude of the C.M.U.A.," confessed Mr. Stockdale. The railways must be thrilled with a great satisfaction by its action in— temporarily, at any rate—not participating in this movement for unity. The difficulties that were keeping the C.M.U.A. outside the Association were more apparent than real, and probably arose from a misconception.
Mr. Stockdale said he felt that, sooner or later, the C.M.U.A. would be in the merger.