Passing Comments
23rd August 1935
Page 28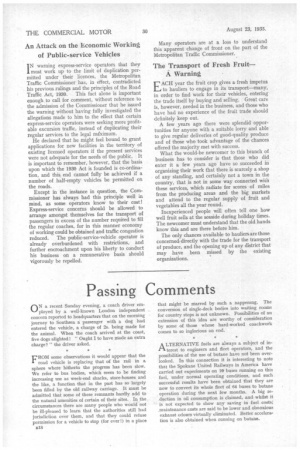 Page 29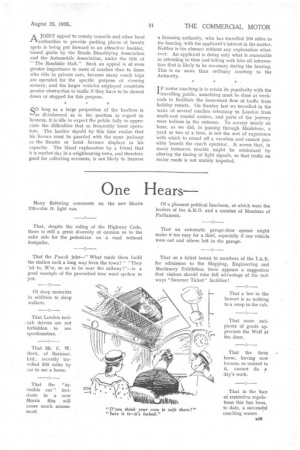 Page 28, 23rd August 1935 —
Passing Comments
Close
ON a recent Sunday evening, a coach driver ern'-"ployed by a well-known London independent concern reported to headquarters that on the morning journey to Southsea a passenger with a dog had entered the vehicle, a charge of 2s. being made for the animal. When the coach arrived at the coast, five dogs alighted ! " Ought I to have Made an extra charge'? " the driver asked.
FROM some observations it would appear that the road vehicle is replacing that of the rail in a sphere where hitherto the progress has been slow. We refer to bus bodies, which seem to be finding increasing use as week-end shacks, store-houses and the like, a function that in the past has so largely been filled by the old railway carriage. It must be admitted that some of these remnants hardly add to the natural amenities of certain of their sites. In the circumstances there are many people who would not be ill-pleased to learn that the authorities still had jurisdiction over them, and that they could refuse permission for a vehicle to stop (for ever !) in a place
B18 that might be marred by such a napperung. The conversion of single-deck bodies into waiting rooms for country stops is not unknown. Possibilities of an extension of this idea are worthy of consideration by some of those whose hard-worked coachwork comes to so inglorious an end.
A LTERNATIVE fuels are always a subject of in
terest to engineers and fleet operators, and the possibilities of the use of butane have not been overlooked. In this connection it is interesting to note that the Spokane United Railways in America have carried out experiments on 10 buses running on this fuel, under normal operating conditions, and such successful results have been obtained that they are now to convert its whole fleet of 64 buses to butane operation during the next few months. A big reduction in oil consumption is claimed, and whilst it is not expected to show any saving in fuel costs; ,maintenance costs are said to be lower and obnoxious exhaust odours virtually eliminated. Better acceleration is also obtained when running on butane.
AJOINT appeal to county councils and other local authorities to provide parlang places at beauty spots is being put forward in an attractive booklet, issued gratis by the Roads Beautifying Association and the Automobile Association, under the title of " The Roadside Halt." Such an appeal is of even greater importance to users of coaches than to those who ride in private cars, because many coach trips are operated for the specific purpose of viewing scenery, and the larger vehicles employed constitute greater obstruction to traffic if they have to be slowed down or stopped for this purpose.
Q0 long as a large proportion of the hauliers is '-so ill-informed as to the position in regard to licences, it is idle to expect the public fully to appreciate the difficulties that so frequently beset operators. The haulier should by this time realize that his licence must be guarded with the same jealousy as the theatre or hotel , licensee displays in his capacity. The bland explanation by a friend that it is market day in a neighbouring town, and therefore good for collecting accounts, is not likely to impress a licensing authority, who has travelled 100 Miles to the hearing, With the applicant's interest in the matter. Neither is his absence without any explanation whatever. An applicant is doing only what is reasonable in attending to time and taking with him all information that is likely to be necessary during the hearing. This is no more than ordinary courtesy to the Authority.
F motor coaching is to retain its popularity with the travelling public, something must be done at weekends to facilitate the homeward flow of traffic from holiday resorts. On Sunday last we travelled in the wake of several coaches returning to London from south-east coastal centres, and parts of the journey were tedious in the extreme. To occupy nearly an hour, as we did, in passing through Maidstone, a yard or two at a time, is not the sort of experience with which to round off a vacation and cannot possibly benefit the coach operator. It seems that, in many instances, trouble might be minimized by altering the timing of light signals, so that traffic on major roads is not unduly impeded.