A Step in the Elimination of Dangerous
22nd September 1925
Page 15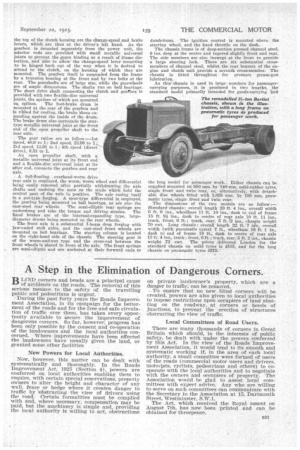 Page 15, 22nd September 1925 —
A Step in the Elimination of Dangerous
Close
Corners.
BLIND corners and bends are a principal cause of accidents on the roads. The removal of this serious menace to the safety of the travelling public and pedestrians is urgent. During the past forty years the Roads Improfvement Association, in its campaign for the betterment of the roads and for the free and safe circulation of traffic over them, has taken every opportunity available to ecure the improvement of dangerous corners. So far, however, progress has been only possible by the consent and co-operation of the landowners and the local authorities concerned. Where improvements have been effected the landowners have usually given the land, or granted some other facilities
New Powers for Local Authorities.
Now, however, this matter can be dealt with systematically and thoroughly. In the Roads Improvement Act, 1925 (Section 4), powers are conferred on local authorities enabling them to require, with certain special reservations, property owners to alter the height and character of any wall, fence or hedge where it creates danger to traffic by bbstructing the view of drivers using the road. Certain formalities must be complied with and, where necessary, compensation may be paid, but the machinery Is simple and, providing the local authority is willing to act, obstructions on private landowner's property, which are a danger to traffic, can be removed.
To ensure that no new blind corners will be created, powers are also given to local authorities to impose restrictions upon occupiers of land abutting on the roadway, at corners or bends of junctions, to prevent the erection of structures obstructing the view of traffic.
Local Committees of Road Users.
There are many thousands of corners in Great Britain which should, in the interests ofpublic safety, be dealt with under the powers conferred by this Act. In the view of the Roads Improvement Association, it would tend to its smooth and systematic working if, in the area of each local authority, a small committee were formed of users of the roads (commercial motor users and drivers, motorists, cyclists, pedestrians and others) to cooperate with the local authorities and to negotiate with the owners and occupiers of property. The Association would be glad to assist local committees with expert advice. Any who are willing to serve on such committees can communicate with the Secretary to the Association at 15, Dartmouth Street, Westminster, S.W.1. The Act, which received the Royal assent on August 7th, has now been printed and can be obtained for threepence.