Priority plan • Consultation plans have been released by the
22nd October 1992
Page 6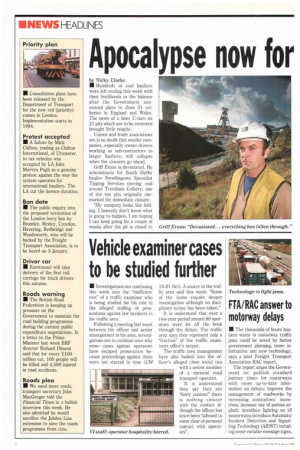 Page 6, 22nd October 1992 —
Priority plan • Consultation plans have been released by the
Close
Department of Transport for the new red (priority) routes in London. Implementation starts in 1994.
Protest accepted • A failure by Mick Chilton, trading as Chilton International, of Uttoxeter, to tax vehicles was accepted by LA John Mervyn Pugh as a genuine protest against the way the system operates for international hauliers. The LA cut the licence duration.
Ban date • The public inquiry into the proposed revocation of the London lorry ban by Bromley, Bexley, Croydon, Havering, Redbridge and Wandsworth, who will be backed by the Freight Transport Association, is to be heard on 5 January.
Driver car • Eurotunnel will take delivery of the first rail carriage for truck drivers this autumn.
Roads warning • The British Road Federation is keeping up pressure on the Government to maintain the road building programme during the current public expenditure negotiations. In a letter to the Prime Minister last week BRF director Richard Diment said that for every £100 million cut, 100 people will be killed and 4,500 injured in road accidents.
Roads plea • We need more roads, transport secretary John MacGregor told the Financial Times in a bullish interview this week. He also admitted he would sacrifice the Jubilee Line extension to save the roads programme from cuts.