Apocalypse now for coal hauliers
22nd October 1992
Page 6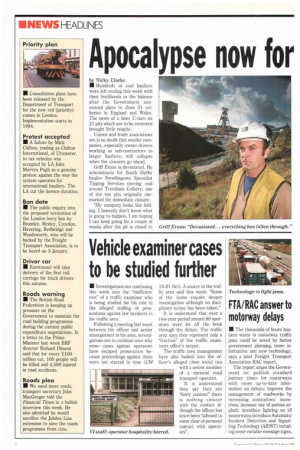 Page 7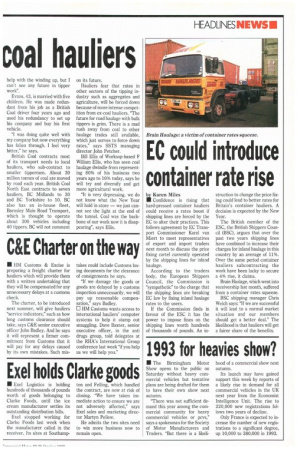 Page 6, 22nd October 1992 —
Apocalypse now for coal hauliers
Close
12y Nicky Clarke • Hundreds of coal hauliers were left reeling this week with their livelihoods in the balance after the Government announced plans to close 31 collieries in England and Wales. The news of a later U-turn on 21 pits which are to be reviewed brought little respite.
Unions and trade associations are in no doubt that smaller companies, especially owner-drivers working as sub-contractors to larger hauliers, will collapse when the closures go ahead.
Griff Evans is devastated. He subcontracts for South Derby haulier Swadlingcote Specialist Tipping Services moving coal around Trentham Colliery, one of the ten pits originally earmarked for immediate closure.
"My company looks like folding. I honestly don't know what is going to happen, I am hoping I can keep going for a couple of weeks after the pit is closed to
help with the winding up, but I can't see any future in tipper work".
Evans, 43, is married with five children. He was made redundant from his job as a British Coal driver four years ago and used his redundancy to set up his company and buy his first vehicle.
"I was doing quite well with my company but now everything has fallen through. I feel very bitter," he says.
British Coal contracts most of its transport needs to local hauliers, who sub-contract to smaller tippermen. About 30 million tonnes of coal are moved by road each year. British Coal North East contracts to seven hauliers, BC Midlands to 30 and BC Yorkshire to 10. BC also has an in-house fleet, Barnsley Main Road Transport, which is thought to operate about 300 vehicles including 40 tippers. BC will not comment on its future.
Hauliers fear that rates in other sectors of the tipping industry such as aggregates and agriculture, will be forced down because of more intense competition from ex-coal hauliers. "The future for road haulage with bulk tippers is grim. There is a mad rush away from coal to other haulage trades still available, which just serves to force down rates," says SSTS managing director John Fetcher,
Bill Ellis of Worksop-based F William Ellis, who has seen coal haulage dwindle from representing 80% of his business two years ago to 10% today, says he will try and diversify and get more agricultural work.
"It is very depressing, we do not know what the New Year will hold in store — we just cannot see the light at the end of the tunnel. Coal was the backbone of our work now it is disappearing", says Ellis.