CELECT COMPANY
22nd October 1992
Page 36
Page 37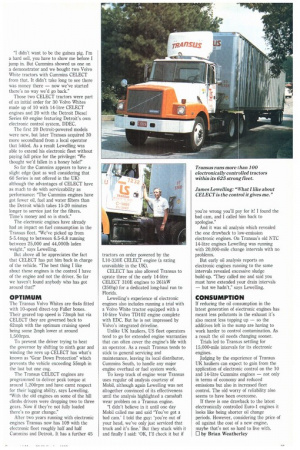 Page 36, 22nd October 1992 —
CELECT COMPANY
Close
Keywords :
Diesel Engines
,
Cummins
,
Trucking Industry In The United States
,
Straight-six Engine
,
Common Rail
,
Internal Combustion Engine
,
Truck
,
Caterpillar Inc.
,
Detroit Diesel 60
,
Tractor
,
Fuel Injection
Many British operators are wary of hi-tech electronics. We talked to a Stateside convert...
• Say "electronics" to most 'truck operators and it's a good bet that they'll associate the word "reliability". Then follow it with a question mark. Electronics still create bad feelings for many hauliers, particularly those stung by the early anti-lock braking systems.
But electronics provide the ability to control many functions on a truck that simply can't be handled by mechanical means. The best known example is electronic control on fuel injection systems. Talk to any truck or engine maker about emissions laws and the solution inevitably includes electronic fuel injection — if not for Euro-1 then certainly for Euro-2 emissions laws.
Until now UK operator experience of electronic engines has been limited to the 14-litre Scania vee-eight. Since 1990 Bosch's Electronic Diesel Control (EDC) fuel injection system has been fitted on the most powerful versions.
Things have now moved on, spurred by Euro-1 which comes into full effect next October. Scania has extended the fitting of EDC beyond its big vee to the straight-six 11-litre used in the R113: its arch-rival Volvo has chosen EDC on its 16, 12 and 10-litre Euro-1 engines. MAN is also looking at fitting EDC on its 12-litre six-pot but says it won't need it for Euro-1.
COMPONENT But what of the UK makers? As "component" truck builders, ERF, Foden and Seddon Atkinson have had to wait for their engine suppliers to provide them with electronic diesels. And Cummins has come up with the goods. It has developed electronic versions of its 14-litre and 10-litre engines as part of its latest Euro-1 engine line-up (CM 17-23 September).
Cummins' own CELECT electronic fuelling system is now standard on the 373kW (500hp) and 328kW (440hp) versions of its latest 14-litre N Series. And there's a CELECT-equipped LIO engine — the 350E — which takes the popular 10-litre into the 350hp class for the first time.
So far UK operational feedback on CELECT is limited to a small number of European evaluation units — but in the US operators have been running CELECT engines since 1990.
During a recent trip to the US Commercial Motor had the chance to talk to an operator with more than 100 "electronic" trucks in its fleet and find out their strengths — and weaknesses.
Transus, based in Atlanta, Georgia, is one of the largest "Less-than-Truckload" (LTL) carriers in the south east states running 625 Class 8 (top-weight) tractors.
EQUIVALENT
The closest British equivalent to an LTL carrier is a parcels operator. Using its Atlanta headquarters as its main hub Transus has regular trunking runs as far north as Chicago and south to Florida.
Its mixed-load artics work to a rigid schedule and run whether they're full or not. Given the distances involved, time is extra important. Transus tractors are averaging 150,000 miles a year and are kept for anything between five and seven years.
While the company's operation is somewhat different to British eyes, our fleet engineers would have no trouble relating to Transus's no-nonsense corporate field maintenance supervisor James Lewelling. He has been with Transus since the early sixties, starting on the loading dock.
After a spell in the US Army where he gained his taste for truck servicing he returned to find his original job filled: "They offered me a job in the service shop as a grease monkey, so you might say I started on the ground floor."
Today he looks after the entire fleet. His office is a desk in a corner of the busy Transus workshops and the smudge of oil on his white shirt when CM visited indicates his hands-on approach.
Over the past two years Transus has been slowly increasing the number of tractors in its fleet with electronically managed engines, although Lewelling admits to having been reluctant to take the plunge at first.
"I didn't want to be the guinea pig. I'm a hard sell, you have to show me before I jump in. But Cummins showed us one on a demonstrator and we bought two Volvo White tractors with Cummins CELECT from that. It didn't take long to see there was money there — now we've started there's no way we'd go back."
Those two CELECT tractors were part of an initial order for 30 Volvo Whites made up of 10 with 14-litre CELECT engines and 20 with the Detroit Diesel Series 60 engine featuring Detroit's own electronic control system, DDEC.
The first 20 Detroit-powered models were new, but later Transus acquired 30 more secondhand from a local operator that folded. As a result Lewelling was able to extend his electronic fleet without paying full price for the privilege: "We thought we'd fallen in a honey hole!"
So far the Cummins appears to have a slight edge (just as well considering that 60 Series is not offered in the UK) although the advantages of CELECT have as much to do with serviceability as performance: "The Cummins engines have got fewer oil, fuel and water filters than the Detroit which takes 15-20 minutes longer to service just for the filters. Time's money and so is stock."
The electronic engines have already had an impact on fuel consumption in the Transus fleet. 'We've picked up from 5-5.4mpg to between 6.5-6.8 running between 25,000 and 44,000lb laden weight," says Lewelling.
But above all he appreciates the fact that CELECT has put him back in charge of the vehicle. "The best thing I like about these engines is the control I have of the engine and not the driver. So far we haven't found anybody who has got around that!"
OPTIMUM
The Transus Volvo Whites are 6x4s fitted with 10-speed direct-top Fuller boxes. Their geared top speed is 73mph but via CELECT they are governed back to 62mph with the optimum cruising speed being some 2mph lower at around 1,50Orpm.
To prevent the driver trying to beat the governor by shifting to ninth gear and winding the revs up CELECT has what's known as "Gear Down Protection" which prevents the vehicle exceeding 55mph in the last but one cog.
The Transus CELECT engines are programmed to deliver peak torque at around 1,200rpm and have earnt respect for their lugging ability, says Lewelling. "With the old engines on some of the hill climbs drivers were dropping two to three gears. Now if they're not fully loaded there's no gear change."
After two years running with electronic engines Transus now has 109 with the electronic fleet roughly half and half Cummins and Detroit. It has a further 45 tractors on order powered by the L10-330E CELECT engine (a rating unavailable in the UK).
CELECT has also allowed Transus to uprate three of the early 14-litre CELECT 310E engines to 261kW (350hp) for a dedicated long-haul run to Florida.
Lewelling's experience of electronic engines also includes running a trial with a Volvo White tractor equipped with a 10-litre Volvo TD102 engine complete with EDC. But he is not impressed by Volvo's integrated driveline.
Unlike UK hauliers, US fleet operators tend to go for extended engine warranties that can often cover the engine's life with an operator, As a result Transus tends to stick to general servicing and maintenance, leaving its local distributor, Cummins South, to handle any major engine overhaul or fuel system work.
To keep track of engine wear Transus uses regular oil analysis courtesy of Mobil, although again Lewelling was not altogether convinced of its effectiveness until the analysis highlighted a camshaft wear problem on a Transus engine.
"I didn't believe in it until one day Mobil called me and said "You've got a bad cam,' I told the guy: 'you're out of your head, we've only just serviced that truck and it's fine.' But they stuck with it and finally I said: 'OK, I'll check it but if you're wrong you'll pay for it! I found the bad cam, and I called him back to apologise."
And it was oil analysis which revealed the one drawback to low-emission electronic engines. On Transus's old NTC 14-litre engines Lewelling was running with 20,000-mile change intervals with no problems.
But early oil analysis reports on electronic engines running to the same intervals revealed excessive sludge build-up. "They called me and said you must have extended your drain intervals — but we hadn't," says Lewelling.
CONSUMPTION
If reducing the oil consumption in the latest generation of electronic engines has meant less pollutants in the exhaust it's also meant less topping up — so the additives left in the sump are having to work harder to control contamination. As a result the oil needs changing sooner.
Trials led to Transus settling for 15,000-mile intervals for its electronic engines.
Judging by the experience of Transus UK hauliers can expect to gain from the application of electronic control on the 10 and 14-litre Cummins engines — not only in terms of economy and reduced emissions but also in increased fleet control. The old worry of reliability also seems to have been overcome.
If there is one drawback to the latest electronically controlled Euro-1 engines it looks like being shorter oil change periods. However, considering the price of oil against the cost of a new engine, maybe that's not so hard to live with. 0 by Brian Weatherley