• If you listen carefully you might hear the distant
22nd October 1992
Page 33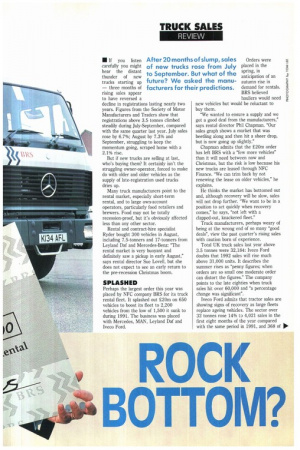 Page 34
Page 33, 22nd October 1992 —
• If you listen carefully you might hear the distant
Close
Keywords :
Trucks
,
Road Transport
,
Fiat
,
Iveco
,
Leyland Daf
,
Seddon Atkinson
,
Automotive Industry
,
Ford Motor Company
,
Erf
,
Ryder
,
Daf Trucks
,
Leyland Motors
,
Business / Finance
thunder of new trucks starting up — three months of rising sales appear to have reversed a decline in registrations lasting nearly two years. Figures from the Society of Motor Manufacturers and Traders show that registrations above 3.5 tonnes climbed steadily during July-September, compared with the same quarter last year. July sales rose by 6.7%; August by 7.3% and September, struggling to keep the momentum going, scraped home with a 2.1% rise.
But if new trucks are selling at last, who's buying them? It certainly isn't the struggling owner-operator, forced to make do with older and older vehicles as the supply of late-registration used trucks dries up.
Many truck manufacturers point to the rental market, especially short-term rental, and to large own-account operators, particularly food retailers and brewers. Food may not be totally recession-proof, but it's obviously affected less than any other sector.
Rental and contract-hire specialist Ryder bought 300 vehicles in August, including 7.5-tonners and 17-tonners from Leyland Daf and Mercedes-Benz: "The rental market is very buoyant and definitely saw a pickup in early August," says rental director Sue Lovell, but she does not expect to see an early return to the pre-recession Christmas boom.
SPLASHED
Perhaps the largest order this year was placed by NFC company BRS for its truck rental fleet. It splashed out £20m on 650 vehicles to boost its fleet to 2,200 vehicles from the low of 1,500 it sunk to during 1991. The business was placed with Mercedes, MAN, Leyland Daf and Iveco Ford, Orders were placed in the spring, in anticipation of an autumn rise in demand for rentals. BRS believed hauliers would need new vehicles but would be reluctant to buy them.
"We wanted to ensure a supply and we got a good deal from the manufacturers," says rental director Phil Chapman. Our sales graph shows a market that was beetling along and then hit a sheer drop, but is now going up slightly."
Chapman admits that the Z20m order has left BRS with a "few more vehicles" than it will need between now and Christmas, but the risk is low because his new trucks are leased through NFC Finance. "We can trim back by not renewing the lease on older vehicles," he explains.
He thinks the market has bottomed out and, although recovery will be slow, sales will not drop further. "We want to be in a position to act quickly when recovery comes," he says, "not left with a clapped-out, knackered fleet."
Truck manufacturers, perhaps weary of being at the wrong end of so many "good deals", view the past quarter's rising sales with caution born of experience.
Total UK truck sales last year above 3.5 tonnes were 32,184: Iveco Ford doubts that 1992 sales will rise much above 31,000 units. It describes the summer rises as "penny figures; when orders are so small one moderate order can distort the figures." The company points to the late eighties when truck sales hit over 60,000 and "a percentage change was significant".
Iveco Ford admits that tractor sales are showing signs of recovery as large fleets replace ageing vehicles, The sector over 32 tonnes rose 14% to 4,021 sales in the first eight months of the year compared with the same period in 1991, and 368 of OP'
PHOTOGRAPHY by TOM LEE
them were Iveco Fords giving the company a 9% market share.
Iveco Ford hangs its future in the heavy truck market on the success of the EuroTech range, which reaches the UK next year. "But if the market lifted 25% it would still not be brilliant," it says. That sort of rise would still provide no more than three weeks' extra work for the production line. Fellow Iveco Group member Seddon Atkinson has been doing rather better in the tractor market — not least due to a large order for the MoD.
Volvo is concerned that people may get too excited about a little upwards "hiccup" in the market. It has registered an improvement on the year to the end of September, with 7.5-tonners up 4% and vehicles above 15 tonnes up by 6%, but it does not see truck rental sales as the industry's saviour: "Every new vehicle bought by a rental company to rent to multiple customers means several new vehicles are not being bought," it says.
ERF, now on a four-day week, claims it is the only truly British company left in the UK truck market and detects a loyalty from customers who want to buy British: "People still have a lot of national pride," says marketing director Rod England.
He reports an increase in enquiries but does not expect them to be converted into sales before the New Year.
"There has been a small upturn but it's not particularly significant," says England. He believes the July-September boost represents orders placed after the election when there was a brief upturn in confidence. Now that the bubble has burst. "The Government needs to act by providing tax relief to encourage investment," he says.
Mercedes-Benz (UK) laments the virtual disappearance from the market of the owner-driver and the small fleet operator: "The people who have continued to buy are the large own-account operators who have bought right through the recession," it says. Like ERF, Mercedes would like to see the Government take action with a sustained cut in interest rates: "We need to feel the Government is in control and has a long term strategy," it says.
But when it comes Mercedes warns that it will be a bitter-sweet experience. "How many orders will have been lost for ever? And how much pent-up demand will there be? Eventually the spring water will gush out of the side of the hill."
Scania, specialising in heavy artics, says it is relatively "happy in its misery" because this sector has not been hit as hard as some others. It has supplied Esso with 60 tankers since 1990 and recently sold 42 to Q8 Oil. The firm has tickled its market share up 11.4% in the nine months to September, compared with 10.9% last year: "However it will be a tough year ahead," warns the company.
MAN says it has noticed benefits since its UK operation, formerly 80% owned by Lonrho, was bought out by the factory in Germany: "Confidence is high among staff and potential customers, and ordering times have improved."
Leyland Daf has sold nearly 6,000 vehicles since January to push Iveco Ford into second place. It clinched its pole position by winning Parcelforce's entire 1992 spend on new vehicles.
COMPRISED
The £19m order for 1,200 vehicles comprised 700 7.5-tonners and 500 3.5-tonners: "It's the strength of our 45 Series that has put us where we are," says the company. Leyland Daf believes the floating pound is helping UK truck makers by pushing up the cost of imported vehicles. As for the current quarter, "You could discount one or two good months, but you can't ignore three."
The company believes the rental market is "alive and well". It has just sold 34 of its 95 Series tractors to CRR Truck Rental for £2m, and Hargrave International has taken 24 FTG 95.360 twin-steer tractors, worth £1.5m at showroom prices.
Leyland Daf describes the market as a "patchwork quilt" where patterns are hard to find, but one thing is certain: the small haulier is nowhere to be seen.
Renault sums up the economic situation as "dire". It expects job cuts in many industries, particularly coal, to depress demand further: "When individuals lose their jobs there is less demand for vehicles," it says. It does not expect sales to top 30,000 this year and is not optimistic for a fast upturn: "If there is a 10% improvement next year," it says, "we will be lucky."
0 by Patric Cunnane