ONLY HOPE REMAINS
22nd October 1992
Page 3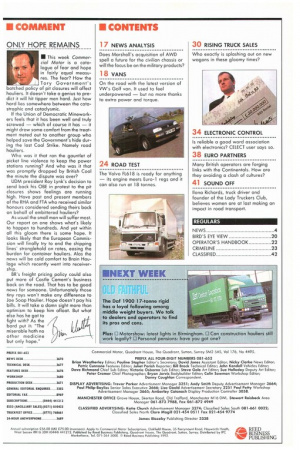 Page 3, 22nd October 1992 —
ONLY HOPE REMAINS
Close
• This week Commercial Motor is a catalogue of fear and hope in fairly equal measures. The fear? How the Tory Government's botched policy of pit closures will affect hauliers. It doesn't take a genius to predict it will hit tipper men hard. Just how hard lies somewhere between the catastrophic and cataclysmic.
If the Union of Democratic Mineworkers feels that it has been well and truly screwed — which of course it has — it might draw some comfort from the treatment meted out to another group who helped save the Government's hide during the last Coal Strike. Namely road houliers.
Who was it that ran the gauntlet of picket line violence to keep the power Stations running? And who was it that was promptly dropped by British Coal the minute the dispute was over?
UDM president Roy Lynk's decision to send back his OBE in protest to the pit closures shows feelings are running high. Have past and present members of the RHA and FTA who received similar honours considered sending theirs back on behalf of embittered hauliers?
As usual the small man will suffer most. Our report on one shows what's likely to happen to hundreds. And yet within all this gloom there is some hope. It looks likely that the European Commission will finally try to end the shipping lines stranglehold on rates, easing the burden for container hauliers. Alas the news will be cold comfort to Brain Haulage which recently went into receivership.
BR's freight pricing policy could also put more of Castle Cement's business back on the road. That has to be good news for someone. Unfortunately those tiny rays won't make any difference to Joe Soap Haulier. Hope doesn't pay his bills. It will take a damn sight more than optimism to keep him afloat. But what else has he got to fight with? As the bard put it: "The miserable hath no other medicine but only hope."