AWD: survival in civvies?
22nd October 1992
Page 19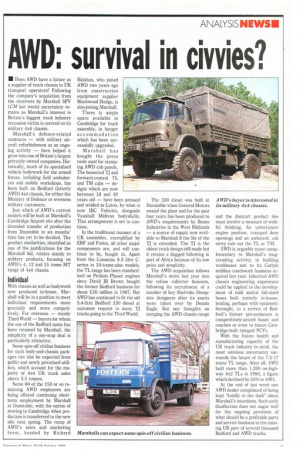 Page 19, 22nd October 1992 —
AWD: survival in civvies?
Close
• Does AWD have a future as a supplier of truck chassis to UK transport operators? Following the company's acquisition from the receivers by Marshall SPY (CM last week) uncertainty remains as Marshall's interest in Britain's biggest truck industry recession victim is centred on its military 4x4 chassis.
Marshall's defence-related contracts — with military aircraft refurbishment as an ongoing activity — have helped it grow into one of Britain's largest privately owned companies. Historically, much of its specialised vehicle bodywork for the armed forces, including field ambulances and mobile workshops, has been built on Bedford (latterly AWD) 4x4 chassis, for either the Ministry of Defence or overseas military customers.
Just which of AWD's current models will be built at Marshall's Cambridge Airport site after the intended transfer of production from Dunstable in six months' time has yet to be decided. The product similarities, identified as one of the justifications for the Marshall bid, relates mainly to military products, focusing on AWD's 4, 12 and 15 tonne MT range of 4x4 chassis.
Individual
With chassis as well as bodywork now produced in-house, Marshall will be in a position to meet individual requirements more precisely and more competitively. For overseas — mainly Third World — buyers for whom the use of the Bedford name has been retained by Marshall, the simplicity of a one-stop deal is particularly attractive.
Some spin-off civilian business for such body-and-chassis packages can also be expected from public and newly privatised utilities, which account for the majority of 4x4 UK truck • sales above 3.5 tonnes.
Some 60 of the 150 or so remaining AWD employees are being offered continuing shortterm employment by Marshall at Dunstable, with the option of moving to Cambridge when production is transferred to the new site next spring. The rump of AWD's sales and marketing team, headed by Richard Halahan, who joined AWD two years ago from construction equipment supplier Blackwood Hodge, is also joining Marshall.
There is ample space available in Cambridge for truck assembly, in hangar accommodation which has been successfully upgraded.
Marshall has bought the press tools used for stamping AWD cab panels. The bonneted TJ and forward-control TL and TM cabs — designs which are now between 18 and 40 years old — have been pressed and welded in Luton, by what is now IBC Vehicles, alongside Vauxhall Midivan bodyshells. That arrangement is set to continue.
In the traditional manner of a UK assembler, exemplified by ERF and Foden, all other major components are, and will continue to be, bought in. Apart from the Cummins 8.3 litre Cseries in 24-tonne-plus models, the TL range has been standardised on Perkins Phaser engines since David JB Brown bought the former Bedford business for about £20 million in 1987. But AWD has continued to fit the old 5.4-litre Bedford 330 diesel at customer request in many TJ trucks going to the Third World. The 330 diesel was built at Dunstable when General Motors owned the plant and for the past four years has been produced to AWD's requirements by Beans Industries in the West Midlands — a source of supply now available to Marshall if the life of the TJ is extended. The TJ is the oldest truck design still made but it retains a dogged following in part of Africa because of its low price and simplicity.
The AWD acquisition follows Marshall's move last year into the refuse collector business, following its recruitment of a number of key Shelvoke Dempster designers after its assets were taken over by Dennis Eagle. But any thoughts on merging the AWD chassis range and the dustcart product line must involve a measure of wishful thinking. An unfortunate engine position, cramped door openings and an awkward, cab entry rule out the TL or TM.
AWD is arguably more complementary to Marshall's longstanding activity in building workbuses and to its Carlyle midibus coachwork business acquired last year. Inherited AWD chassis engineering experience could be applied to the development of midi and/or full-sized buses built entirely in-house, leading, perhaps with optimistic foresight, to a revival of Bedford's former pre-eminence in competitively-priced buses and coaches or even to future Cambridge-built integral PCVs.
With the future health and manufacturing capacity of the UK truck industry in mind, the most ominous uncertainty surrounds the future of the 7.5-17 tonne TL range. After all, AWD built more than 1,200 on-highway 4x2 TLs in 1990, a figure which declined by 50% in 1991.
At the end of last week one AWD dealer complained of being kept "totally in the dark" about Marshall's intentions. Such early disaffection does not augur well for the ongoing provision of what should be a profitable parts and service business to the existing UK parc of several thousand Bedford and AWD trucks.