Ten vehicles too many
22nd October 1992
Page 15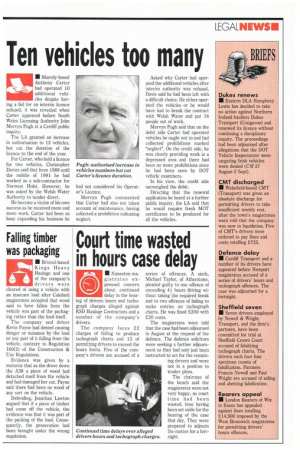 Page 15, 22nd October 1992 —
Ten vehicles too many
Close
• Maerdy-based Anthony Carter had operated 10 additional vehicles despite having a bid for an interim licence refused, it was revealed when Carter appeared before South Wales Licensing Authority John Mervyn Pugh at a Cardiff public inquiry.
The LA granted an increase in authorisation to 12 vehicles, but cut the duration of the licence to the end of the year.
For Carter, who held a licence for two vehicles, Christopher Davies said that from 1988 until the middle of 1991 he had worked as a sub-contractor for Norwest Hoist. However, he was asked by the Welsh Water Authority to tender direct.
He became a victim of his own success as he received more and more work. Carter had been so busy expanding his business he
hm
had not considered his Operator's Licence.
Mervyn Pugh commented that Carter had also not taken account of maintenance, having collected a prohibition indicating neglect. Asked why Carter had operated the additional vehicles after interim authority was refused, Davis said he had been left with a difficult choice. He either operated the vehicles or he would have had to break the contract with Welsh Water and put 16 people out of work_ Mervyn Pugh said that on the debit side Carter had operated vehicles he ought not to and had collected prohibitions marked "neglect". On the credit side, he was clearly providing work in a depressed area and there had been no more prohibitions since he had been seen by DOT vehicle examiners.
In his view, the credit side outweighed the debit.
Directing that the renewal application be heard at a further public inquiry, the LA said that he would require fresh MOT certificates to be produced for all the vehicles.