Court time wasted in hours case delay
22nd October 1992
Page 15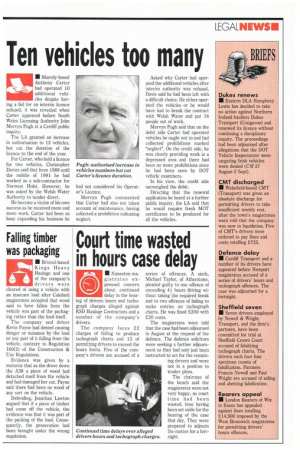 Page 15, 22nd October 1992 —
Court time wasted in hours case delay
Close
. Nuneaton magistrates expressed concern about continued delay in the hear
ing of drivers hours and tachograph charges alleged against KSD Haulage Contractors and a number of the company's drivers.
The company faces 22 charges of failing to produce tachograph charts and 13 of permitting drivers to exceed the hours limits. Five of the company's drivers are accused of a series of offences. A sixth, Michael Taylor, of Atherstone, pleaded guilty to one offence of exceeding 41i hours driving without taking the required break and to two offences of failing to make entries on tachograph charts. He was fined £200 with £20 costs.
The magistrates were told that the case had been adjourned in August at the request of the defence. The defence solicitors were seeking a further adjournment as they had only just been instructed to act for the remaining drivers and were not in a position to tender pleas.
The chairman of the bench said the magistrates were not very happy, as court time had been wasted, time having been set aside for the hearing of the case that day. They were prepared to adjourn the matter for a fortnight.