Barnfather debts fear
22nd October 1992
Page 13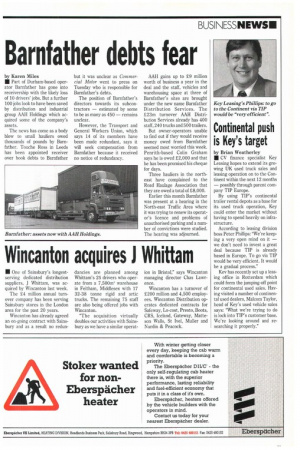 Page 13, 22nd October 1992 —
Barnfather debts fear
Close
by Karen Miles • Part of Durham-based operator Barnfather has gone into receivership with the likely loss of 10 drivers' jobs. But a further 100 jobs look to have been saved by distribution and industrial group AAH Holdings which acquired some of the company's assets.
The news has come as a body blow to small hauliers owed thousands of pounds by Barnfather. Touche Ross in Leeds has been appointed receiver over book debts to Barnfather
but it was unclear as Commercial Motor went to press on Tuesday who is responsible for Barnfather's debts.
The position of Barnfather's directors towards its subcontractors — estimated by some to be as many as 450 — remains unclear.
However, the Transport and General Workers Union, which says 14 of its members have been made redundant, says it will seek compensation from Barnfather because it received no notice of redundancy. AAH gains up to £9 million worth of business a year in the deal and the staff, vehicles and warehousing space at three of Barnfather's sites are brought under the new name Barnfather Distribution Services. The £23m turnover AAH Distribution Services already has 400 staff, 240 trucks and 500 trailers.
But owner-operators unable to find out if they would receive money owed from Barnfather seemed most worried this week. Penrith-based Colin Graham says he is owed £2,000 and that he has been promised his cheque for days.
Three hauliers in the northeast have complained to the Road Haulage Association that they are owed a total of £8,000.
Earlier this month Barnfather was present at a hearing in the North-east Traffic Area where it was trying to renew its operator's licence and problems of unauthorised parking and a number of convictions were studied. The hearing was adjourned.