Daf gets social security
22nd October 1992
Page 10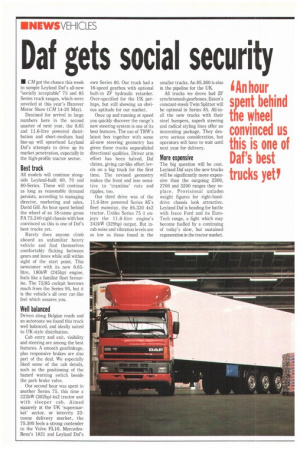 Page 10, 22nd October 1992 —
Daf gets social security
Close
• CM got the chance this week to sample Leyland Daf's all-new socially acceptable" 75 and 85 Series truck ranges, which were unveiled at this year's Hanover Motor Show (CM 14-20 May).
Destined for arrival in large numbers here in the second quarter of next year, the 8.65 and 11.6-litre powered distribution and short-medium haul line-up will spearhead Leyland Daf's attempts to drive up its market penetration, especially in the high-profile tractor sector.
Best truck
All models will continue alongside Leyland-built 60, 70 and 80-Series. These will continue as long as reasonable demand persists, according to managing director, marketing and sales, David Gill. An hour spent behind the wheel of an 18-tonne gross FA 75.240 rigid chassis with box convinced us this is one of Daf's best trucks yet.
Rarely does anyone climb aboard an unfamiliar heavy vehicle and find themselves comfortably flicking between gears and lanes while still within sight of the start point. This newcomer with its new 8.65litre, 180kW (245hp) engine, feels like a familiar fleet favourite. The 75/85 cockpit borrows much from the Series 95, but it is the vehicle's all over car-like feel which assures you.
Well balanced
Driven along Belgian roads and an autoroute we found this truck well balanced, and ideally suited to UK-style distribution.
Cab entry and exit, visibility and steering are among the best features. A smooth gearlinkage, plus responsive brakes are also part of the deal. We especially liked some of the cab details, such as the positioning of the hazard warning switch beside the park brake valve.
Our second hour was spent in another Series 75, this time a 222kW (302hp) 4x2 tractor unit with sleeper cab. Aimed squarely at the UK `supermarket' sector, or intercity 32tonne delivery market, the 75.300 feels a strong contender to the Volvo FL10, MercedesBenz's 1831 and Leyland Daf's
own Series 80. Our truck had a 16-speed gearbox with optional built-in ZF hydraulic retarder. Over-specified for the UK perhaps, but still showing an obvious aptitude for our market.
Once up and running at speed you quickly discover the range's new steering system is one of its best features. The use of TRW's latest box together with some all-new steering geometry has given these trucks unparalleled directional qualities. Driver arm effort has been halved, Daf claims, giving car-like effort levels on a big truck for the first time. The revised geometry makes the front end less sensitive to 'tramline' ruts and ripples, too.
Our third drive was of the 11.6-litre powered Series 85's fleet mainstay, the 85.330 4x2 tractor. Unlike Series 75 it enjoys the 11.6-litre engine's 242kW (329hp) output. But incab noise and vibration levels are as low as those found in the smaller trucks. An 85.360 is also in the pipeline for the UK.
All trucks we drove had ZF synchromesh gearboxes. Eaton's constant-mesh Twin Splitter will be optional in Series 85. All-inall the new trucks with their steel bumpers, superb steering and radical styling lines offer an interesting package. They deserve serious consideration, but operators will have to wait until next year for delivery.
More expensive
The big question will be cost. Leyland Daf says the new trucks will be significantly more expensive than the outgoing 2300, 2700 and 3200 ranges they replace. Provisional unladen weight figures for right-handdrive chassis look attractive. Leyland Daf is heading for battle with lveco Ford and its EuroTech range, a fight which may become fuelled by a continuing of today's slow, but sustained regeneration in the tractor market.