Out and Horne
22nd October 1908
Page 12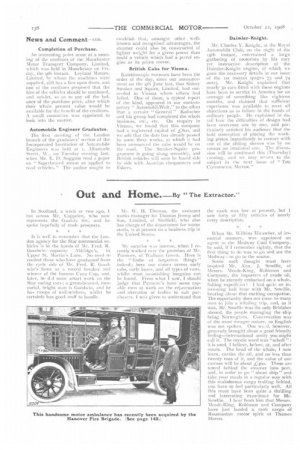 Page 12, 22nd October 1908 —
Out and Horne
Close
In Scotland, a week or two ago, I ran across Mr. Cappelen, who now represents the Gaulois tire, and he spoke hopefully of trade prospects.
It is well to remember that the London agency for the Star commercial vehicles is in the hands of Mr. Fred. R. Goodwin—opposite Aldridge's, in Upper St. Martin's Lane. No need to remind those who have graduated from the cycle side of Niro Fred. R. Goodwin's fame as a record breaker and winner of the famous Coca Cup, and, later, he crd some smart work on the Star racing cars ; a great-hearted, mercurial, bright man is Goodwin, and he has troops of well-wishers, whikt he certainly has good stuff to handle. Mr. W. H. Thomas, the assistant works manager for Thomas Jessop'and Son, Limited, of Sheffield, who also has charge of the department for motor steels, is at present on a business trip in the United States.
My surprise was intense, when I recently walked over the premises of Mr. l'atmore, of \Valliant Green. Here is the " limbo of forgotten things " indeed ; here one comes across early cabs, early buses, and all types of vans, whilst most astonishing bargains can be found. Front what I saw, I should judge that Patmore's have some capable men at work on the rejuvenation and alteration of bodies to suit purchasers. I was given to understand that
the stock was low at present, but I saw forty or fifty vehicles of nearly every description.
When Mr. Wilkins.Nlicawber, of immortal memory, was appointed an agent to the Medway Coal Company, he said, if I remember rightly, that the lirst thing to do was to go and see the Medway—to go to the source.
Some such thought must have inspired Mr. Alex. J. Srriellie, of Messrs. Meade-King, Robinson and Company, the importers of crude oil, when he recently embarked on a whale_ fishingexpediton ! I had quite an interesting half hour with Mr. Smellie, hearing about that exciting occupation. The opportunity does not come to many men to join a whaling trip, and, as it was, Mr. Smeilie was the only Britisher aboard, the people managing the ship being Norwegians. Conversation was of the most meagre nature, as English was not spoken. One wo. d, however, generally brought about a good friendly feeling—international amity you might call it. The mystic word was "scholl " : it is used, I believe, before, at, and after meals. The head of the whale, I now learn, carries the oil, and no less than twenty tons of it, and the value of one carease will be about ,47400. These are towed behind the steamer into port, and, in order to go " about ship" and take your meals in a regular way with this malodorous cargo trailing behind, you have to feel particularly well. All this must have been quite a thrilling and interesting experience for Mr. Smellie. I hear from him that Messrs. Meade-King, Robinson and Company have just landed a tank cargo of Roumanian motor spirit at Thames Haven.