County Fire Brigades.
22nd October 1908
Page 1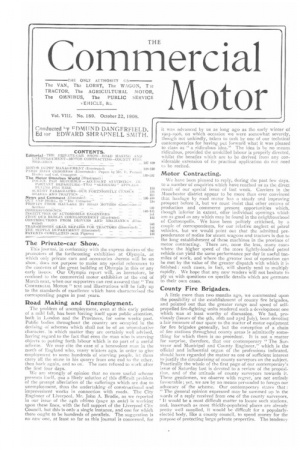 Page 2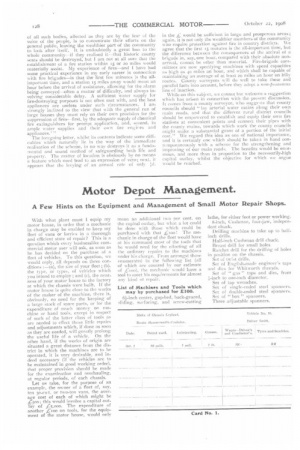 Page 1, 22nd October 1908 —
County Fire Brigades.
Close
A little more than two months ago, we commented upon the possibility of the establishment of county fire brigades, and pointed out that the greater range and speed of selfpropelled fire-fighting units rendered such a development one which was at least worthy of discussion. We had, previously (issues of the 9th, 16th and 23rd July), been devoting a fair measure of our space to the matter of motor equipment for fire brigades generally, but the conception of a chain of fire stations throughout county areas is admittedly slimething for which there is no precedent. It is not a matter for surprise, therefore, that our contemporary " The Surveyor and Municipal and County Engineer," which is the official and influential organ of the professions indicated, should.have regarded the matter as one of sufficient interest to justify the circularising of county surveyors on the subject. Practically the whole of the first page of our contemporary's issue of Saturday last is devoted to a review of the proposition, and of the attitude of county surveyors towards it. These gentlemen, we observe with regret, are not entirely favourable; yet, we are by no means persuaded to forego our advocacy of the scheme. Our contemporary states that : " The general opinion expressed may be summed up in the words of a reply received from one of the county surveyors, It would be a most difficult matter to locate such stations, and, inasmuch as most thickly-populated places are already pretty well supplied, it would be -difficult for a popularlyelected body, like a county council, to spend money for the purpose of protecting large private properties. The tendency of all such bodies, affected as they are by the fear of the voice of the people, is to concentrate their efforts on the general public, leaving the wealthier part of the community to look after itself, it is undoubtedly a great loss to the whole communityif they realised it—that historic county seats should be destroyed, but I am not at all sure that the establishment of a tire station within 15 or 20 miles would materially assist. My experience of fires—and I have had some practical experience in my early career in connection with fire brigades—is that the first few minutes is the allimportant time, and a station 15 miles away would mean an hour before the arrival of assistance, allowing for the alarm being conveyed—often a matter of difficulty, and always involving considerable delay. A sufficient water supply for lire-destroying purposes is not often met with, and the best appliances are useless under such circumstances. I am strongly inclined to the view that N■ ith the general run of large houses they must rely on their own provision for the suppression of firesfirst, by the adequate supply of chemical fire extinguishers for prompt application, and, second, in ample water supplies and their own lire eng ices and appliances.' " The foregoing letter, 'yhilst its contents indicate some difficulties N.hich naturally lie in the way of the immediate realisation of the scheme, in no way destroys it as a fundamental and sound method of safeguarding both life and property. The matter of location is obviously by no means a feature which need lead to an expression of veto; next, it appears that the levying of an annual rate of only d. in the 4 would be sufficient in large and prosperous areas; again, it is not only the wealthier members of the community who require protection against tire in country districts. We agree that the first 15 minutes is the all-important time, but the difference between the consequences ot the arrival of a brigade in, say, one hour, compared with their absolute nonarrival, cannot be other than material. Fire-brigade committees are now specifying machines with speed capacities as high as 40 miles an hour, and which shall be capable of maintaining an average of at least 20 miles an hour on hilly routes. County surveyors will do well to take these and parallel facts into account, before they adopt a non-possumas line of inaction.
While on this subject, we cannot but welcome a suggestion which has arisen in connection with the present discussion. It conies from a county surveyor, who sugge,as that county councils should " lay arterial water mains along their own main roads, and that the different rural district councils should be empowered to establish and equip their own fire stations at convenient points and connect their pipes with the county mains, towards which work the county councils might make a substantial grant of a portion of the initial cost." We regard this idea as one of national importance, and it is certainly one which should be taken in hand contemporaneously with a scheme for the strengthening and improving of our main roads. The benefits would be enormous, and more than in proportion to the necessarily-high capital outlay, whilst the objective for which we argue would be reached.