Bombardier make a hit
22nd November 1980
Page 25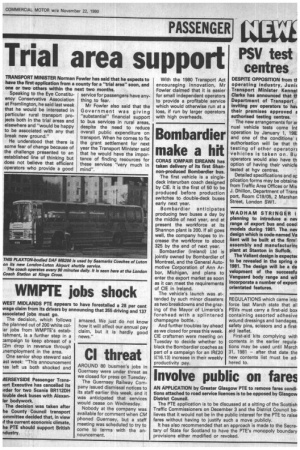 Page 25, 22nd November 1980 —
Bombardier make a hit
Close
CORAS IOMPAIR EIREANN has taken delivery of its first Shannon-produced Bombardier bus.
The first vehicle is a singledeck interurban coach designed by CIE. It is the first of 50 to be produced before production switches to double-deck buses early next year.
Bombardier anticipates producing two buses a day by the middle of next year, and at present the workforce at its Shannon plant is 200. If all goes well, the company hopes to increase the workforce to about 325 by the end of next year.
Bombardier (Ireland) Ltd is jointly owned by Bombardier of Montreal, and the General Automotive Corporation of Ann Arbor, Michigan, and plans to enter the export market as soon as it can meet the requirements of CIE in Ireland.
The vehicle's launch was attended by such minor disasters as two breakdowns and the grazing of the Mayor of Limerick's forehead with a splintered champagne bottle.
And further troubles lay ahead as we closed for press this week. CIE craftsmen were meeting on Tuesday to decide whether to black the Bombardier coaches as part of a campaign for an 1R£20 (£16.13) increase in their weekly productivity pay. REGULATIONS which came into force last March state that all PSVs must carry a first-aid box containing assorted adhesive wound dressings and bandages, safety pins, scissors and a first. aid leaflet.
First-aid kits complying with contents in the earlier regulations may be used until March 31, 1981 — after that date the new contents list must be adhered to.