Living on Commission
22nd May 1953
Page 53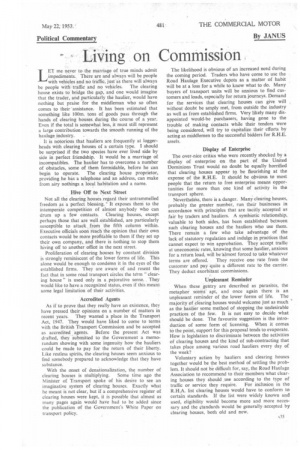 Page 53, 22nd May 1953 —
Living on Commission
Close
By JANUS
LET me never to the marriage of true minds admit impediments. There are and always will be people with vehicles and no traffic, just as there will always be people with traffic and no vehicles. The clearing house exists to bridge the gap, and one would imagine that the trader, and particularly the haulier, would have nothing but praise for the middleman who so often comes to their -assistance. It has been estimated that something like 100m, tons of goods pass through the hands of clearing houses during the course of a year. Even if the total is somewhat less, it must still represent a large contribution towards the smooth running of the
haulage industry.
It is notorious that hauliers are frequently at loggerheads with clearing houses of a certain type. I should be surprised if the two species have ever lived side by side in perfect friendship. It would be a marriage of incompatibles. The haulier has to overcome a number of obstacles, some of them formidable, before he can begin to operate. The clearing house proprietor, providing he has a telephone and an address, can make from airy nothings a local habitation and a name.
Hive Off to Next Street
Not all the clearing houses regard their untrammelled freedom as a perfect blessing. " It exposes them to the intemperate competition of almost anybody who can drum up a few contacts. Clearing houses, except perhaps those that are well established, are particularly susceptible to attack from the fifth column within. Executive officials soon reach the opinion that their own contacts would be more profitable to them if they set up their own company, and there is nothing to stop them hiving off to another office in the next street.
Proliferation of clearing houses by constant division is strongly reminiscent of the lower forms of life. This alone would be enough to condemn it in the eyes of the established firms. They are aware of and resent the fact that in some road transport circles the term "clearing house" is used only in a pejorative sense.. They would like to have a recognized status, even if this meant some legal limitation of their activities.
Accredited Agents
As if to prove that they really have an existence, they have pressed their opinions on a number of matters in recent years. They wanted a place in the Transport Act, 1947. They would have liked to come to terms with the British Transport Commission and be accepted as accredited agents. Before the present Act was drafted, they submitted to the Government a memorandum showing with some ingenuity how the hauliers could be made to pay for the return of their liberty. Like restless spirits, the clearing houses seem anxious to find somebody prepared to acknowledge that they have substance. .
With the onset of denationalization, the number of clearing houses is multiplying. Some time ago the Minister of Transport spoke of his desire to see an imaginative system of clearing houses. Exactly what he meant is not clear, but if a comprehensive register of clearing houses were kept, it is possible that almost as many pages again would have had to be added since the publication of the Government's White Paper on transport policy. The likelihood is obvious of an increased need during the coming period. Traders who have come to use the Road Haulage Executive depots as a matter of habit will be at a loss for a while to know what to do. Many buyers of transport units will be anxious to find customers and loads, especially for return journeys. Demand for the services that clearing houses can give will without doubt be amply met, from outside the industry as well as from established firms. Very likely many disappointed would-be purchasers, having gone to the trouble of making contacts while their tenders were being considered, will try to capitalize their efforts by acting as middlemen to the successful bidders for R.H.E. assets.
Display of Enterprise The over-nice critics who were recently shocked by a display of enterprise on the part of the United Dominions Trust would no doubt be equally horrified that clearing houses appear to be flourishing at the expense of the R.H.E. It should be obvious to most people that the return to free enterprise means opportunities for more than one kind of activity in the transport sphere.
Nevertheless, there is a danger. Many clearing houses, probably the greater number, run their businesses in accordance with principles that are tacitly accepted as fair by traders and hauliers. A symbiotic relationship, valuable to both sides, has been established between such clearing houses and the hauliers who use them. There remain a few who take advantage of the lack of statutory regulation and indulge in practices that cannot expect to win approbation. They accept traffic at uneconomic rates, knowing that some haulier, anxious for a return load, will be almost forced to take whatever terms are offered. They receive one rate from the customer and pay -quite a different rate to the carrier. They deduct exorbitant commissions.
Unpleasant Reminder When these gentry are described as parasites, the metaphor seems apt, and once again there is an unpleasant reminder of the lower forms of life. The majority of clearing houses would welcome just as much as the haulier some method of stopping the undesirable practices of the few. It is not easy to decide what should be done. The favourite suggestion is the introduction of some form of licensing. When it comes to the point, support for this proposal tends to evaporate. How is legislation to discriminate between the activities of clearing houses and the kind of sub-contracting that takes place among various road hauliers every day of the week?
Voluntary action by hauliers and clearing houses together would be the best method of settling the problem. It should not be difficult for, say, the Road Haulage Association to recommend to their members what clearing houses they should .use according to the type of traffic or service they require. For inclusion in the R.H.A. list clearing houses would have to conform to certain standards. If the list were widely known and used, eligibility would become more and more necessary and the ctandards would be generally-accepted by clearing houses, both old and new.