Coach Co. to Pay Damages to Hotel
22nd May 1953
Page 35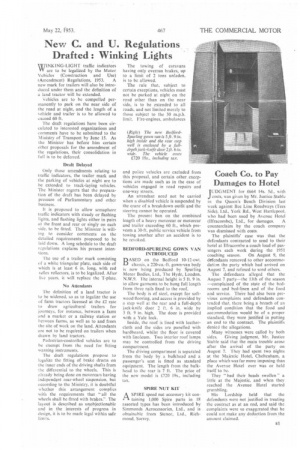 Page 35, 22nd May 1953 —
Coach Co. to Pay Damages to Hotel
Close
J UDGMEN1 for f664 14s. 5d., with costs, was given by Mr. Justice Stable in the Queen's Bench Division last
week against Bee Line Roadways (Tees Side), Ltd., York Rd., West Hartlepool, who had been sued by Avenue Hotel (Ilfracombe), Ltd., for damages. A counterclaim by the coach company was dismissed with costs.
The plaintiffs' case was that the defendants contracted to send to their hotel at Ilfracombe a coach load of passengers each week during the 1951 coaching season. On August 9, the defendants removed to other accommodation the party which had arrived on August 7, and refused to send others.
The defendants alleged that the August 7 party—the 13th of the season —complained of the state of the bedrooms and bed-linen and of the food and service. There had also been previous complaints and defendants contended that, there being a breach of an implied condition that the food and accommodation would be of a proper standard, they were justified in putting an end to the contract. The plaintiffs denied the allegations.
Many witnesses were called by both sides. Giving judgment, Mr. Justice Stable said that the main trouble arose after the arrival of the party on August 7. They had spent two nights at the Majestic Hotel, Cheltenham, a place which was far more imposing than the Avenue Hotel ever was or held itself to he.
They " had their heads swollen" little at the Majestic, and when they reached the Avenue Hotel started grumbling.
His Lordship held that the defendants were not justified in treating the contract as at an end, and said the . complaints were so exaggerated that he could not make any deduction from the amount claimed.