No Threat to Value of Roads
22nd May 1953
Page 33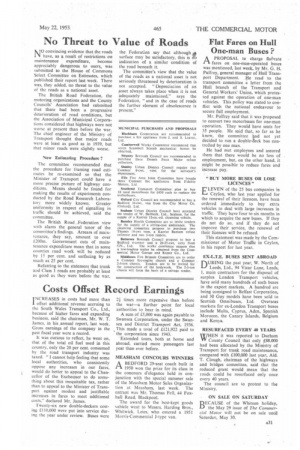 Page 33, 22nd May 1953 —
No Threat to Value of Roads
Close
NO convincing evidence that the roads have, as a. result of restrictions on maintenance expenditure, become appreciably dangerous to users, was submitted to the House of Commons Select Committee on Estimates, which published their report last week. There was, they added, no threat to the value of the roads as a national asset.
The British Road Federation, the motoring organizations and the County Councils' Association had submitted that there had been a progressive deterioration of road conditions, but the Association of Municipal Corporations considered that highways were not worse at present than before the war. The chief engineer of the Ministry of Transport thought that major roads were at least as good as in 1939, but that minor roads were slightly worse.
New Estimating Procedure ?
The committee recommended that the procedure for framing road estimates be re-examined so that the Minister of Transport could have a more precise picture of highway conditions. Means should be found for making the results of experiments conducted by the Road Research Laboratory more widely known. Greater uniformity in respect of signalling in traffic should be achieved, said the committee.
The British Road Federation view with alarm the general tenor of the committee's findings. Arrears of maintenance, they say, amount to over f200m. Government cuts of maintenance expenditure mean that in some counties road work will be reduced by 15 per cent. and surfacing by as much as 25 per cent.
Referring to the statement that trunk and Class 1 roads are probably at least as good as they were before the war the Federation say that although & surface may be satisfactory, this is To indication of a similar condition of the road beneath it.
The committee's view that the value of the roads as a national asset is not seriously threatened by deterioration is not accepted. "Depreciation of an Asset always takes place when it is not adequately maintained," says the Federation, "and in the case of roads the further element of obsolescence is present."