Flat Fares on Hull One-man Buses ?
22nd May 1953
Page 33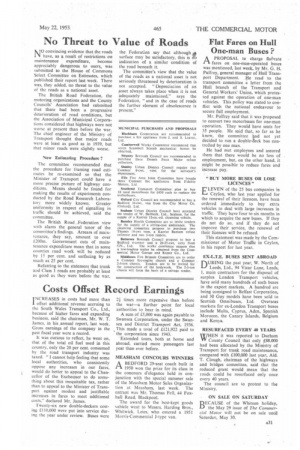 Page 33, 22nd May 1953 —
Flat Fares on Hull One-man Buses ?
Close
APROPOSAL to charge flakate
fares on one-man-operated buses was mentioned, last week, by Mr. G. H. Pulfrey, general manager of Hull Transport Department. He read to the transport committee a letter from the Hull branch of the Transport and General Workers' Union, which protested against the operation of one-man vehicles. This policy was stated to conflict with the national endeavour to secure full employment.
Mr. Pulfrey said that it was proposed to convert two motorbuses for one-man operation. They would have seats for 35 people. He said that, so far as he knew, the committee 12ad not yet decided to run a double-aeck bus controlled by one man.
He had met employees and assured them that there would be no loss of employment, but, on the other hand, it might be possible to reduce fares and increase pay.
"BUY MORE BUSES OR LOSE ' LICENCES"
EELEVEN of the 25 bus companies in Ceylon, who last year applied for the renewal of their licences, have been ordered immediately to buy extra vehicles to deal with large increases in traffic. They have four to six months in which to acquire the new buses. If they do not do so, and if they do not improve their service, the renewal of their licences will he refused.
This statement was made by the Commissioner of Motor Traffic in Ceylon, in his report for last year.
EX-L.T.E. BUSES SENT ABROAD
DURING the past year, W. North of Leeds, Ltd., 94 Vicar Lane, Leeds, 1, main contractors for the disposal of surplus London Transport vehicles, have sold many hundreds of such buses in the export markets. A hundred are being consigned to Belfast Corporation, and 30 Guy models have been sold to Scottish Omnibuses, Ltd. Overseas markets for ex-London Transport buses include Malta, Cyprus, Aden, Spanish Morocco. the Canary Islands, Belgium and Kenya.
RESURFACED EVERY 40 YEARS WHEN it was reported to Durham IT County Council that only £88,000 had been allocated by the Ministry of Transport for trunk road maintenance, compared with £100,000 last year, Ald. T. Clough, chairman of the highways and bridges committee, said that the reduced grant would mean that the roads could be resurfaced only once every 40 years.
The council are to protest to the NI inistry.
• ON SALE ON SATURDAY
BECAUSE of the Whitson holiday, the May 29 issue of The Commercial Motor will not be on sale until Saturday, May 30.