Costs Offset Record Earnings
22nd May 1953
Page 33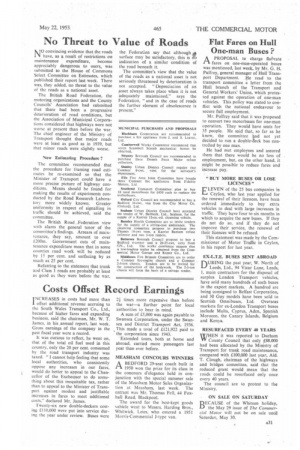 Page 33, 22nd May 1953 —
Costs Offset Record Earnings
Close
INCREASES in costs had more than / offset additional revenue accruing to the South Wales Transport Co., Ltd., because of higher fares and expanding business, said the chairman, Mr. W. T. James. in his annual report, last week. Gross earnings of the company in the past fiscal year were a record.
It was curious to reflect, he went on, that of the total oil fuel used in this country, only the 20 per cent. consumed by the road transport industry was taxed. "1 cannot help feeling that some local authorities, who consistently oppose any increases in our fares, would do better to appeal to the Chancellor of the Exchequer to do something about this inequitable tax, rather than to appeal to the Minister of Transport against modest and justifiable increases in fares to meet additional costs," declared Mr. James.
Twenty-six new double-deckers costing £110,000 were put into service during the year under review. Buses were
2i times more expensive than before the war—a further point for local authorities to bear in mind.
A sum of £5,000 was again payable to Swansea Corporation, under the Swansea and District Transport Act, 1936. This made a total of £121,922 paid to the corporation since 1943.
"Extended tours, both at home and abroad, carried more passengers last year than ever before.
MEASHAM CONCOURS WINNERS A BEDFORD 29-seat coach built in ("k 1950 won the prize for its class in the concours &elegance held in conjunction with the special summer sale of the Measham Motor Sales Organization at Measham, last week. The entrant was Mr. Thomas Fell, 44 Foxhall Road, Blackpool.
The award for the best-kept goods vehicle went to Messrs. Harding Bros., Whitwick. Leics, who entered a 1951 Morris-Commercial J-type van.