Minister Breaches Existingoperator Stronghold IN upholding Northern Roadways, Ltd., against
22nd May 1953
Page 28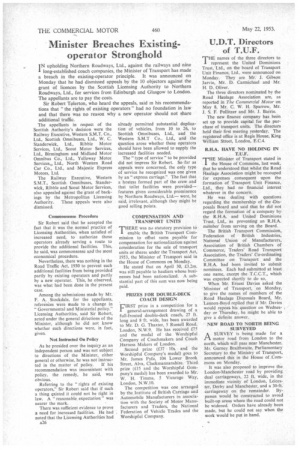 Page 28, 22nd May 1953 —
Minister Breaches Existingoperator Stronghold IN upholding Northern Roadways, Ltd., against
Close
the railways and nine I long-established coach companies, the Minister of Transport has made
a breach in the existing-operator principle. It was announced on Monday that he had dismissed appeals by the 10 objectors against the grant of licences by the Scottish Licensing Authority to Northern Roadways, Ltd., for services from Edinburgh and Glasgow to London. The appellants are to pay the costs.
Sir Robert Tolerton, who heard the appeals, said in his recommendations that "the rights of existing operators" had no foundation in law and that there was no reason why a new operator should not share additional traffic.
The appellants in respect of the Scottish Authority's decision were the Railway Executive, Western S.M.T. Co., Ltd., Scottish Omnibuses, Ltd., W. C. Standenvick, Ltd., Ribble Motor Services, Ltd., Scout Motor Services, Ltd., Birmingham and Midland Motor Omnibus Co., Ltd., Yelloway Motor Services" Ltd., North Western Road Car Co., Ltd., and Majestic Express Motors, Ltd.
The Railway Executive, Western S.M.T., Scottish Omnibuses, Standerwick, Ribble and Scout Motor Services, also appealed against the grant of backings by the Metropolitan Licensing Authority. These appeals were also dismissed.
Commonsense Procedure Sir Robert said that he accepted the fact that it was the normal practice of Licensing Authorities, when satisfied of increased need, to authorize those operators already serving a route to provide the additional facilities. This, he said, was commonsense and the most economical procedure.
Nevertheless, there was nothing in the Road Traffic Act, 1930 to prevent such additional facilities from being provided partly by existing operators and partly by a new operator. This, he observed, was what had been done in the present case.
Among the submissions made by Mr. F. A. Stockdale, for the appellants, references were made to a change in "Governmental and Ministerial policy." Licensing Authorities, said Sir Robert, acted under the general directions of the Minister, although he did not know whether such directions were, in fact, given.
Not Instructed On Policy As he presided over the inquicy as an independent person and was not subject to directions of the Minister, either general or otherwise, he was not instruc ted in the matter of policy. If his recommendation was inconsistent with policy, the remedy, he said, was obvious.
Referring to the "rights of existing operators," Sir Robert said that if such a thing existed it could not be right in law. A "reasonable expectation" was nearer the mark.
There was sufficient evidence to prove a need for increased facilities. He had noted that the Licensing Authorities had A26 already permitted substantial duplication of vehicles, from 10 to 26, to Scottish Omnibuses, Ltd., and the Western S.M.T Co., Ltd., and the question arose whether these operators should have been allowed to supply the increased facilities needed.
The "type of service" to be provided did not impress Sir Robert. So far as appeals were concerned, the only type of service he recognized was one given by an "express carriage." The fact that a hostess formed part of the crew and that toilet facilities were provided— features given considerable prominence by Northern Roadways, Ltd.— were, he said, irrelevant, although they might be good selling points.
COMPENSATION AND TRANSPORT UNITS THERE was no statutory provision to enable the British Transport Commission to offset sums payable for compensation for nationalization against consideration for the sale of transport units or shares under the Transport Act, 1953. the Minister of Transport said in the House of Commons on Monday.
He stated that on April 30, £3.2m. was still payable to hauliers whose businesses had been nationalized. A substantial part of this sum was now being paid.
PRIZES FOR DOUBLE-DECK COACH DESIGN
FIRST prize in a competition for a general-arrangement drawing of a full-fronted double-deck coach, 27 ft. long and 8 ft. wide, has been awarded to Mr. D. G. Thaxter, 5 Russell Road, London, N.W.9. He has received 175 and the medal of the Worshipful Company of Coachmakers and Coach Harness Makers of London.
Second prize (En 10s. and the Worshipful Company's medal) goes to Mr. James Fyfe, 104 Lower Brook Street, Alva, Clackmannanshire. Third prize (£15 and the Worshipful Gompany's medal) has been awarded to Mr. W. H. Timms, 5 Vicarage Way, London, N.W.10.
The competition was one arranged by the Institute of British Carriage and Automobile Manufacturers in association with the Society of Motor Manufacturers and Traders, the National Federation of Vehicle Trades and the Worshipful Company.