A Breath of Fresh Air
22nd May 1953
Page 25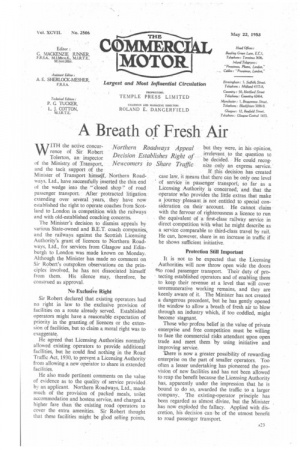 Page 25, 22nd May 1953 —
A Breath of Fresh Air
Close
WITH the active concurrence of Sir Robert Tolerton, an inspector of the Ministry of Transport. and the tacit support of the Minister of Transport himself, Northern Roadways, Ltd., have successfully inserted the thin end of the wedge into the "'closed shop" of road passenger transport After protracted litigation extending over several years, they have now established the right to operate coaches from Scotland to London in competition with the railways and with old-established coaching concerns.
The Minister's decision to dismiss appeals by various State-owned and B.E.T. coach companies, and the railways against the Scottish Licensing Authority's grant of licences to Northern Roadways, Ltd., for services from Glasgow and Edinburgh to London was made known on Monday. Although the Minister has made no comment on Sir Robert's outspoken observations on the principles involved, he has not dissociated himself from them. His silence may, therefore, be construed as approval No Exclusive Right Sir Robert declared that existing operators had no right in law to the exclusive provision of facilities on a route already served. Established operators might have a reasonable expectation of priority in the granting of licences or the extension of facilities, but to claim a moral right was to exaggerate.
He agreed that Licensing Authorities normally allowed existing operators to provide additional facilities, but he could find nothing in the Road Traffic Act, 1930, to prevent a Licensing Authority from allowing a new operator to share in extended facilities.
He also made pertinent comments on the value of evidence as to the quality of service provided by an applicant. Northern Roadways, Ltd., made much of the provision of packed meals, toilet accommodation and hostess service, and charged a higher fare than the existing road operators to cover the extra amenities. Sir Robert thought that these facilities might be gbod selling points, Northern Roadways Appeal but they were, in his opinion, • irrelevant, to the question to be decided. He could recognize only an express service.
If this decision has created case law, it means that there can be only one level of service in passenger transport, so far as a Licensing Authority is concerned, and that the operator who provides the little extras that make a journey pleasant is not entitled to special consideration on their account. He cannot claim with the fervour of righteousness a licence to run the equivalent of a first-class railway service in direct competition With what he might describe as a service comparable to third-class travel by rail. He can, however, share in an increase in traffic if he shows sufficient initiative.
Protection Still Important It is not to be expected that the Licensing Authorities will now throw open wide the doors to road passenger transport. Their duty of pro' tecting established operators and of enabling them to keep their revenue at a level that will cover unremunerative working remains, and they are keenly aware of it. The Minister has not created a dangerous precedent, but he has gently opened the window to allow a breath of fresh air to blow through an industry which, if too coddled, might become stagnant.
Those who profess belief in the value of private • enterprise and free competition must be willing to face the commercial risks attendant upon open trade and meet them by using initiative and improving service.
There is now a greater possibility of rewarding enterprise on the part of smaller operators. Too often a lesser undertaking has pioneered the provision of new facilities and has not been allowed to reap the benefit because the Licensing Authority has, apparently under the impression that he is bound to do so, awarded the traffic to a larger company. The existing-operator principle has been regarded as almost divine, but the Minister has now exploded the fallacy. Applied with discretion, his decision can be of the utmost benefit to road passenger transport.