A life without trucks
22nd March 2012
Page 9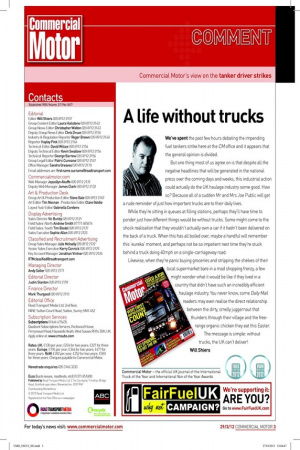 Page 9, 22nd March 2012 —
A life without trucks
Close
We've spent the past few hours debating the impending fuel tankers strike here at the CM office and it appears that the general opinion is divided.
But one thing most of us agree on is that despite all the negative headlines that will be generated in the national press over the coming days and weeks, this industrial action could actually do the UK haulage industry some good. How so? Because all of a sudden Mr and Mrs Joe Public will get a rude reminder of just how important trucks are to their daily lives.
While they're sitting in queues at filling stations, perhaps they'll have time to ponder just how different things would be without trucks. Some might come to the shock realisation that they wouldn't actually own a car if it hadn't been delivered on the back of a truck. When this has all boiled over, maybe a handful will remember this 'eureka' moment, and perhaps not be so impatient next time they're stuck behind a truck doing 40mph on a single-carriageway road.
Likewise, when they're panic buying groceries and stripping the shelves of their local supermarket bare in a mad shopping frenzy, a few might wonder what it would be like if they lived in a country that didn't have such an incredibly efficient haulage industry. You never know, some Daily Mail readers may even realise the direct relationship
between the dirty, smelly juggernaut that thunders through their village and the freerange organic chicken they eat this Easter. The message is simple: without trucks, the UK can't deliver!
Will Shiers