BUYING STOCK
22nd March 2012
Page 8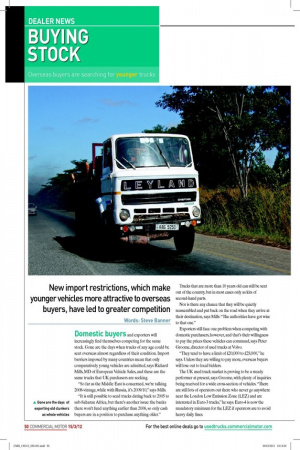 Page 8, 22nd March 2012 —
BUYING STOCK
Close
Overseas buyers are searching for younger trucks
New import restrictions, which make younger vehicles more attractive to overseas buyers, have led to greater competition
Words: Steve Banner Domestic buyers and exporters will increasingly ind themselves competing for the same stock. Gone are the days when trucks of any age could be sent overseas almost regardless of their condition. Import barriers imposed by many countries mean that only comparatively young vehicles are admitted, says Richard Mills, MD of European Vehicle Sales, and these are the same trucks that UK purchasers are seeking.
"So far as the Middle East is concerned, we're talking 2008-vintage, while with Russia, it's 2009/10," says Mills.
"It is still possible to send trucks dating back to 2005 to sub-Saharan Africa, but there's another issue: the banks there won't fund anything earlier than 2006, so only cash buyers are in a position to purchase anything older." Trucks that are more than 10 years old can still be sent out of the country, but in most cases only as kits of second-hand parts.
Nor is there any chance that they will be quietly reassembled and put back on the road when they arrive at their destination, says Mills: "The authorities have got wise to that one." Exporters still face one problem when competing with domestic purchasers, however, and that's their willingness to pay the prices these vehicles can command, says Peter Groome, director of used trucks at Volvo.
"They tend to have a limit of £20,000 to £25,000," he says. Unless they are willing to pay more, overseas buyers will lose out to local bidders.
The UK used truck market is proving to be a steady performer at present, says Groome, with plenty of inquiries being received for a wide cross-section of vehicles. "There are still lots of operators out there who never go anywhere near the London Low Emission Zone (LEZ) and are interested in Euro-3 trucks," he says. Euro-4 is now the mandatory minimum for the LEZ if operators are to avoid heavy daily ines.