Good to grow
22nd March 2012
Page 6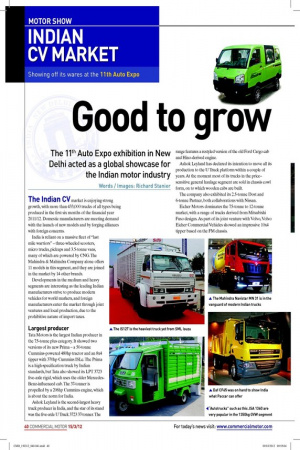 Page 7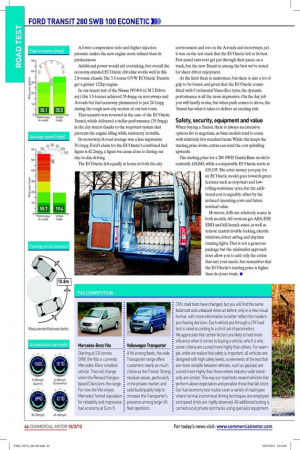 Page 6, 22nd March 2012 —
Good to grow
Close
Keywords :
Transport
,
Land Transport
,
Mahindra Group
,
Econetic
,
Ford Of Europe
,
Trucks
,
Ashok Leyland
,
Ford Motor Company
,
Toyota Dyna
,
Nissan Motors
,
Cummins
,
Mahindra & Mahindra Limited
The 11th Auto Expo exhibition in New Delhi acted as a global showcase for the Indian motor industry Words / Images: Richard Stanier
The Indian CV
market is enjoying strong growth, with more than 433,000 trucks of all types being produced in the irst six months of the inancial year 2011/12. Domestic manufacturers are meeting demand with the launch of new models and by forging alliances with foreign concerns.
India is reliant on a massive leet of "last mile warriors" – three-wheeled scooters, micro trucks, pickups and 3.5-tonne vans, many of which are powered by CNG. The Mahindra & Mahindra Company alone offers 11 models in this segment, and they are joined in the market by 14 other brands.
Developments in the medium and heavy segments are interesting as the leading Indian manufacturers strive to produce modern vehicles for world markets, and foreign manufacturers enter the market through joint ventures and local production, due to the prohibitive nature of import taxes.
The Indian CV
Largest producer
Tata Motors is the largest Indian producer in the 7.5-tonne plus category. It showed two versions of its new Prima – a 50-tonne Cummins-powered 480hp tractor and an 8x4 tipper with 370hp Cummins ISLe. The Prima is a high-speciication truck by Indian standards, but Tata also showed its LPT 3723 ive-axle rigid, which uses the older MercedesBenz-inluenced cab. The 37-tonner is propelled by a 206hp Cummins engine, which is about the norm for India.
Ashok Leyland is the second-largest heavy truck producer in India, and the star of its stand was the ive-axle U Truck 3723 37-tonner. The range features a restyled version of the old Ford Cargo cab and Hino-derived engine.
Ashok Leyland has declared its intention to move all its production to the U Truck platform within a couple of years. At the moment most of its trucks in the price– sensitive general haulage segment are sold in chassis cowl form, on to which wooden cabs are built.
The company also exhibited its 2.5-tonne Dost and 6-tonne Partner, both collaborations with Nissan.
Eicher Motors dominates the 7.5-tonne to 12-tonne market, with a range of trucks derived from Mitsubishi Fuso designs. As part of its joint venture with Volvo, Volvo Eicher Commercial Vehicles showed an impressive 10x4 tipper based on the FM chassis. A lower compression ratio and higher injection pressure makes the new engine more reined than its predecessors.
Additional power would aid overtaking, but overall the economy-minded ECOnetic driveline works well in this 2.8-tonne chassis. The 3.5-tonne GVW ECOnetic Transits get a gutsier 122hp engine.
In our recent test of the Nissan NV400 (CM 2 February) this 3.5-tonner achieved 35.4mpg on motorways and A-roads but fuel economy plummeted to just 24.1mpg during the tough new city section of our test route.
That scenario was reversed in the case of the ECOnetic Transit, which delivered a stellar performance (35.5mpg) in the city streets thanks to the stop/start system that prevents the engine idling while stationary in trafic.
Its motorway/A-road average was a less impressive 30.1mpg. Ford's claim for the ECOnetic's combined fuel igure is 42.2mpg, a igure we came close to during our day-to-day driving.
The ECOnetic felt equally at home in both the city environment and out on the A-roads and motorways, yet it was on the test track that the ECOnetic felt at its best. Few panel vans ever get put through their paces on a track, but the new Transit is among the best we've tested for sheer driver enjoyment.
At the limit there is understeer, but there is also a lot of grip to be found, and given that the ECOnetic comes itted with Continental VancoEco tyres, the dynamic performance is all the more impressive. On the day job you will hardly notice, but when push comes to shove, the Transit has what it takes to deliver an exciting ride.
Safety, security, equipment and value
When buying a Transit, there is always an extensive options list to negotiate, as base models tend to come with relatively few standard items. While this keeps the starting price down, extras can send the cost spiralling upwards.
The starting price for a 280 SWB Transit Base model is currently £18,845, while a comparable ECOnetic starts at £19,195. The extra money you pay for an ECOnetic model goes towards green features such as stop/start and lowrolling-resistance tyres, but the additional cost is arguably offset by the reduced operating costs and future residual value.
However, frills are relatively scarce in both models. All versions get ABS, ESP, EBD and hill launch assist, as well as remote central double locking, electric windows, driver airbag and daytime running lights. That is not a generous package but the minimalist approach does allow you to add only the extras that suit your needs. Just remember that the ECOnetic's starting price is higher than its closet rivals. ■